London : Public transport networks
What we do
We are London's integrated transport authority. We implement the Mayor's Transport Strategy to keep London moving, working and growing and make life in London better. We are funded by fare and tax payers and by commercial revenue from property and advertising. Every penny of our income is reinvested in transport.
Our customers tell us that they want us to deliver: safe and reliable transport services; value for money; and progress and innovation to improve their journeys. In short, they want us to recognise that every journey matters.
Number of journeys made in London
Around than 31 million journeys are made on our road and public transport networks every day. Since 2000, the public transport mode share for London has increased by 10%. We are delivering one of the world's largest programmes of transport capital investment.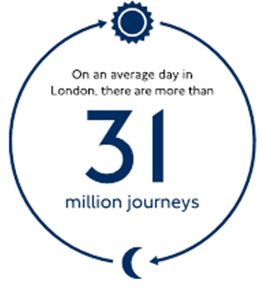 We directly manage the 580km of London's busiest road network, 6,300 traffic signals and control the flow on all of London's roads. We regulate taxis and private hire trade. We operate the Congestion Charging and Low Emission Zone.
£200bn of freight is moved on London's roads every year.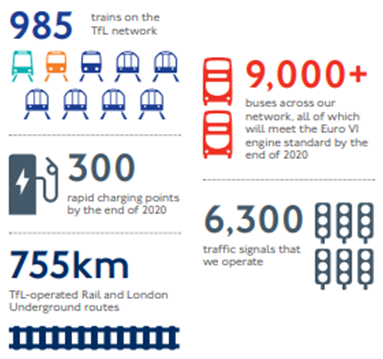 London's public network
| | | | | | |
| --- | --- | --- | --- | --- | --- |
|   | Heavy Rail | Underground | Tram | DLR Rail | Bus |
| SUPPLY |   |   |   |   |   |
| Network length (km) | 788* | 402 | 28 | 34 | 700 (routes) |
| Number of stations served | 321 | 270 | 39 | 45 |   |
| Number of vehicles |   | 521 | 30 | 149 | 9,000 |
| No of operators | 18 | 1 | 1 | 1 | +/- 9 |
| DEMAND |   |   |   |   |   |
| Millions of daily journey stages | 3.1 | 4 | included in bus | 0.3 | 6.5 |
| Passengers-km (million) | ** | 10,423 | 162 | 537 | 8,411 |
* Approximate figure for GLA area; London and South East covers 1245km
** For London Overground, the part of the suburban rail network controlled by TfL, 840