Barcelona : Identification of metropolitan area
Presentation :
Barcelona is the capital of Catalonia, located at the NE corner of the Iberian Peninsula and one of the 17 autonomous regions of Spain. The overall population of Catalonia is 7.5 million inhabitants and its surface is 32,000 km2.
Catalonia has its own parliament and government, Generalitat de Catalunya.
Barcelona Metropolitan Region is made up of seven counties: Barcelonès, Maresme, Vallès Oriental, Vallès Occidental, Baix Llobregat, Alt Penedès and Garraf. The main city is Barcelona, although some other towns exceed 200,000 inhabitants: l'Hospitalet de Llobregat, Badalona, Terrassa and Sabadell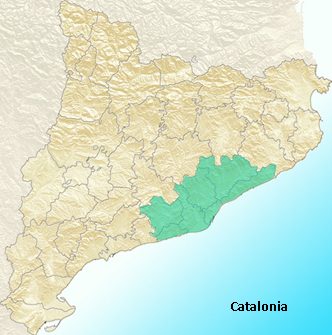 Main figures:
The Metropolitan Region of Barcelona is made up of 164 municipalities
Surface of the city: 101 km2
Population of the city: 1,602,000 inhabitants (2014)
Surface of the region: 3,239 km2
Population of the region: 5,027,000 inhabitants (2014)
Employment: 2,060,000 jobs in the wholes Metropolitan Region (2014)
GDP/inh : 28,200 €/inhab. (2014)