The tide has changed for Bike Share across the UK with many cities looking to these schemes to support a step change in cycling, reducing car journeys, improving health and reducing air pollution on our roads. This is one of the most exciting shifts for cycling, as such schemes attract a wider audience to cycling.
Transport for West Midlands (TfWM), part of the West Midlands Combined Authority (WMCA) will be launching with Nextbike UK LTD the UK's largest docked bike-share scheme outside of London. Launch starts from September 2018, with the phasing of 5000 cycles across the region, which include 7 substantial local authorities including Coventry, Birmingham, Black Country and Solihull.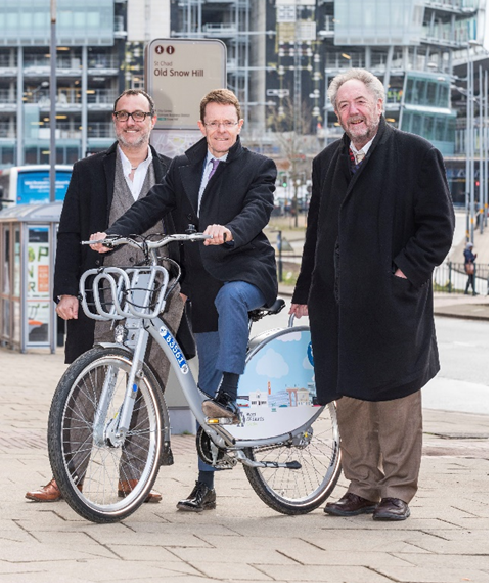 Not only will the West Midlands bike share scheme span across 7 local authorities, a first for the UK, the scheme will further connect with the local transport network, through integrating by the regional smart card Swift – another first for bike share in the UK. Customers will be able to both access annual passes and pay as you go through their Swift card, providing a seamless journey between public transport and bike.
The bike share cycles will also be available to access through the Mobility as a Service pilot, which is running in the West Midlands through MaaS Global. Julian Scriven of nextbike UK LTD, left, Mayor of the West Midlands Andy Street and Cllr Roger Lawrence.
Nextbike UK LTD will also be delivering their social inclusion scheme for the region, offering free memberships to those most vulnerable, including unemployed, low income and those not in employment, education or training (NEETS). Government figures from 2016 suggest there are over 64,750 NEETS across the 7 local authority areas.
Bike share will bring new opportunities for cycling to the region, supporting the increase modal shift from 1.8% (Census,) in 2011 to the Cycling Charter's target of 5% by 2023.