Updated

3 October 2006
News
A crucial agreement detailing the private sector's largest funding contribution towards the Midland Metro extension has been signed.
Westfield has completed its agreement with Centro-PTA by pledging its support for the new 11-lilometre tram lines through the Black Country with a £36.5m (€53 million) contribution towards the £268m (€400 million) project – the largest single private sector contribution to any UK light rail scheme.
The extension has already been given the green light by the Government, and regional transport body Centro-PTA has submitted what it describes as a confident and robust business case for financial approval by Ministers.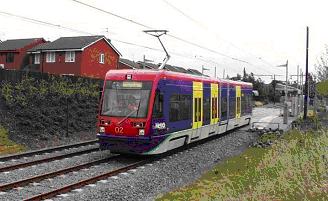 The Wednesbury to Brierley Hill Metro extension will have 17 easy access stops, four of which will include park and ride facilities, and will include new, larger trams which will be able to complete the journey in just 23 minutes.
Midland Metro line one, between Wolverhampton and Birmingham via West Bromwich, caters for over five million passengers a year and has become the region's most reliable form of public transport.