Updated

26 November 2007
News
In 2011 the new airport of the capital region of Berlin will open. Located 30 km south-east of Berlin (near actual Schönefeld Airport) it will replace the three existing airport facilities.
Connections to and from the new airport have been particularly studied to accommodate the foreseen 12-15 million passengers transiting each year.
A new railway station is constructed beneath the airport terminal to ensure fast access by S-Bahn and regional and national railways. Several railway networks will in turn integrate links with the airport.
To connect Berlin city, two services will be provided: The Airport-Express shuttle train will connect the city within 20mn every 15mn. Additionally the S-Bahn will be running every 10mn on a different line connecting within 50mn to the centre.
To other destinations in Brandenburg regional railways will run hourly.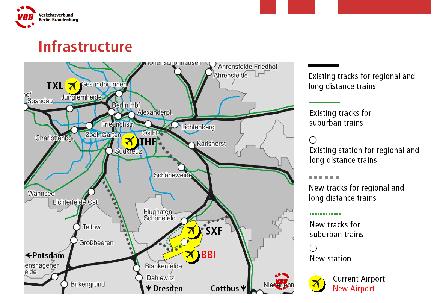 The VBB Verkehrsverbund Berlin-Brandenburg -public transport
authority covering the federal states of Berlin and Brandenburg capital area of Germany- is currently planning details and specifications.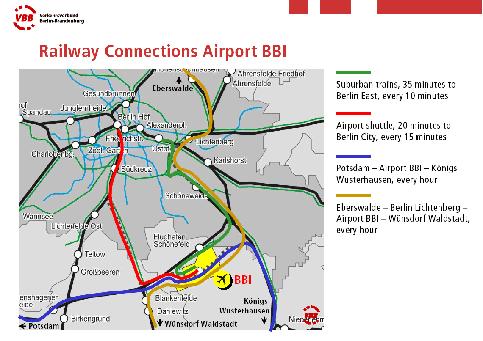 The services will be tendered in an open competition. The objective for the shuttle train is to find an operator who can provide the service without subsidies.