The official time table iPhone app for Berlin and Brandenburg shows all travel connection for train, bus, tram and ferry – and is for free. All time tables of more than 1.000 lines covering more than 13.000 stations of the 30.0000 square kilometer VBB-area are now fitting in the passenger´s pocket. The time table will be updated once
a week (including changes because of constructions, special offers, or changes of the general time table) and will be gradually offered completely, according to the means of transport, with real-time data. The majority of the lines have to-the-minute data by now.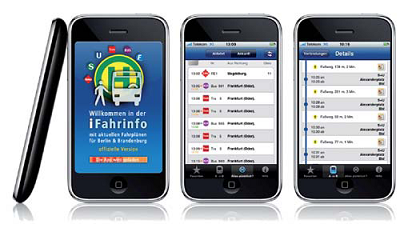 The New options feature:
Routing for public transport (additionally long distance trains);
Real time data (by now majority of the lines, being completed step-by-step), showing punctuality, delays, changes of platforms and alternative traffic connections;
Barrier-free routing;
My-favourites-option and auto-history for the last requests;
Information about the nearest station on the basis of current position;
Suggestion list whilst tipping of first letters of station, sights and addresses (input support);
Advanced search options for stopovers, choice of means of
transport and individual preferences;
Compact design of routing alternatives with door-to-door
navigation and walking distances;
Time remaining until departure of a certain line;
Filter for means of transport;
Augmented Reality (iPhone 4 only).
The iFahrinfo is for free, available in the iTunes store.

For more information: info@vbbonline.de