Updated

12 February 2016
News
Since December 2015, the VBB Livemap not only includes information about public transport but on connected mobility services as well. In addition to current locations of the public means of transport the VBB Livemap shows locations where bike sharing and car sharing facilities are stationed. Taxi stands in the nearby area of the selected location on the map can be opted for activation as well.
To give our passengers the choice to use their private car to combine that with public transport on an intermodal journey the Livemap also displays the nearest Park & Ride facilities at railway stations in the Berlin and Brandenburg state area. And finally, to offerconnected mobility in leisure time without the own car in the scarcely populated parts of Brandenburg state, the Livemap also contains bike rental locations, including phone number and a website link for information and booking.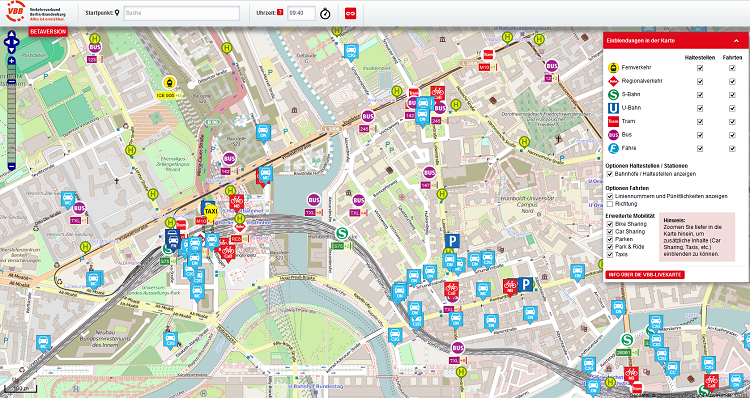 The Livemap is powered by the partners HaCon and VMZ Berlin, the latter as acting operator of Berlins traffic information center. The data concerning taxis, bikes and cars are delivered by VMZ, the Park & Ride information and bike rental locations are provided by VBB.
In 2016, the Livemap will go mobile and move into the VBB app "Bus & Bahn" for iPhone, iPad and Android devices. The mobile use case with the information on smartphones should bring further benefits to our customers on inter-modality with public transport and shared car or bike services.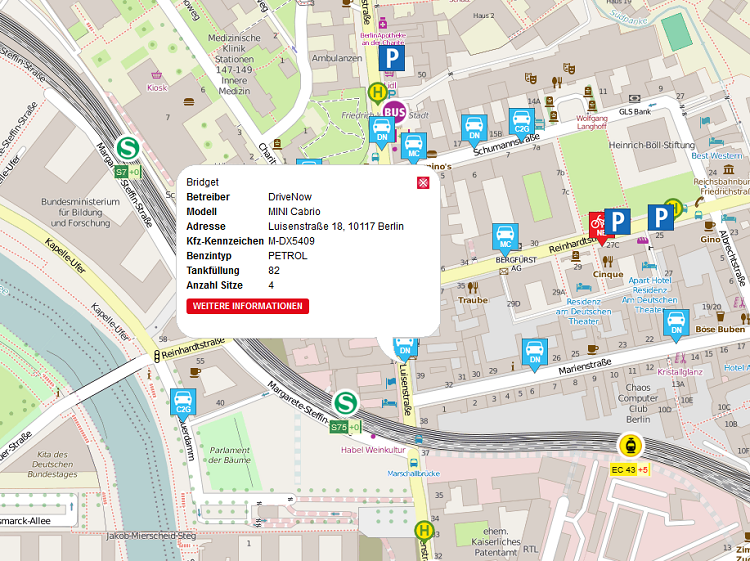 Also in 2016, the multimodal route search will be launched in the VBB app providing journey time and distance information from origin to destination, including journeys where the private car with Park & Ride facilities is considered. Also it will be possible to display combinations with bike or car sharing and public transport within one route.
All information on: www.vbb.de/livemap