Updated

30 November 2020
News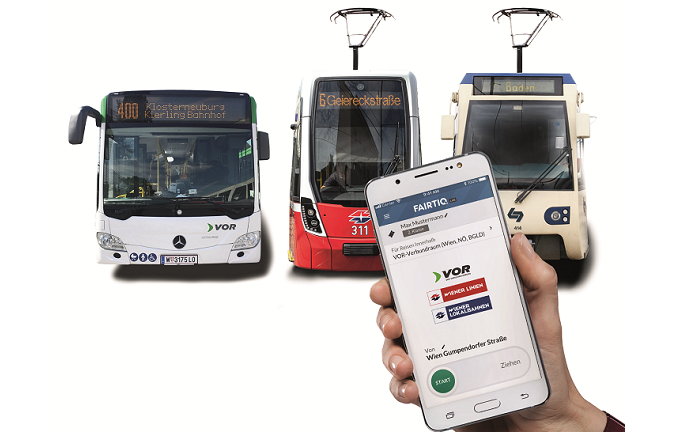 Verkehrsverbund Ost-Region (VOR), the managing public transport authority for Vienna, Lower Austria and Burgenland, in collaboration with its operating partners Wiener Linien and Wiener Lokalbahnen, started testing a new way of ticketing with best price guarantee using the FAIRTIQ smartphone app. With the FAIRTIQ app, public transport use is charged according to a so-called "check-in / check-out" principle using GPS tracking.
The majority of passengers traveling in VOR's public transport network in the Austrian federal states of Vienna, Lower Austria and Burgenland do so with an annual subscription, semester ticket or season tickets for pupils valid in the entire VOR network, and are thus always ready to get onto the next bus, train, tram or underground in the entire network. Without having to worry about the purchase and validation of tickets. All other public transport passengers can get their ticket before starting their journey at ticket machines, service desks, or in the online ticketshop with their computer or smartphone. To understand how the access to VOR's network could become even easier, VOR, Wiener Linien and Wiener Lokalbahnen are now testing the automated smartphone-based ticket purchase with the FAIRTIQ app.
The app works according to a simple principle: With a swipe on the smartphone when starting the journey, the best price determination via GPS tracking is started. When interchanging lines or between bus, tram, metro or train, no additional action is required, as all public transport modes are integrated in the VOR fare system. At the destination, another swipe on the smartphone ends the journey. By comparing the determined GPS data with the public transport timetable, the app calculates the cheapest ticket option for all journeys in the course of a day – depending on whether the customer is cheaper off with single tickets or a certain day pass. The ticket is billed automatically at the end of the day using the means of payment stored in the app. This means that infrequent and occasional public transport customers do not have to look at the wide range of tickets before starting a journey and always receive
the cheapest ticket option for their journeys in the VOR network throughout Vienna, Lower Austria and Burgenland.
After an initial, internal test phase of several weeks, this second test phase with around 5000 public transport customers started on September 14, 2020 and runs until the end of March 2021.