Updated

19 March 2014
News
On 1 January 2014, a new fare scheme comes into force.
It benefits people living in Warsaw by the introduction of
additional discount in fares for people provided they
settle their personal income tax in Warsaw revenue office.
A new feature is that the new single tickets will allow
travellers to transfer during their trip to another vehicle or
a connecting mode of transport.
People living in Warsaw who during the taxable year filed
a tax return for the previous year in the revenue office in
Warsaw will be allowed to use long-term tickets with a
rebate, valid both in zone 1 and 2. This Varsovian Card will
also concern children of that group of people up to 20
years of age who are entitled to use the Young Varsovian
Card (for tickets valid in zone 1 only).
The Young Varsovian Card may also be used by graduate,
undergraduate and engineering students up to 26 years of
age residing in Warsaw who settle their income tax in a
revenue office in Warsaw or who are financially supported
by their parents or guardians settling their taxes in Warsaw.
It is supposed to be a privilege for those who by paying
their taxes in the capital support e.g. the co-financing of
the public transport. It is also supposed to be an incentive
for those who have not yet started to do so.
Additionally, a special ticket will be introduced which will
be eligible to children under 20 from families with 3
children whose parents or guardians settle their taxes in
Warsaw revenue office. It will cost 99 PLN for each child, it
will be valid for a year and entitles the cardholder to use it
unlimited in both ticket zones during its validity.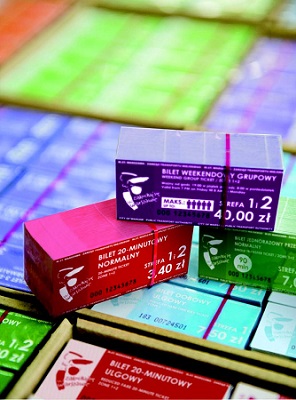 Another advantage of the new fare scheme will be its
simplification. The number of ticket types will be reduced.
The ones that are least popular will be canceled. This will
include 40- and 60-minute tickets.
Using the public transport will also be fostered by canceling
a single fare ticket which must be validated in each
vehicle. A single fare ticket valid only in zone 1 will be
replaced with a single fare transfer ticket (also valid only
in zone 1) valid for 75 minutes and enables the user to
change lines or vehicles of transport or will entitle its
purchaser to reach the terminus of a specific line. Single
tickets for both zones will be replaced with a similar ticket
valid for 90 minutes.
It will be of great convenience for passengers. Those not
using travel cards or time-limited tickets will not have to
validate a separate ticket with every change. This will not
only be a more convenient solution but also less expensive
for those who transfer to a connecting line, or change
modes of transport during their journey.
A 3-day ticket will be replaced with a weekend ticket that
will be valid from 7:00 PM on Friday until 8:00 AM on
Monday in zones 1 and 2. The tariff will also include a
special group weekend ticket that may be used by a group
of maximum 5 persons who may want to visit the city using public transport. The rules of validity are identical to those
of a single person weekend ticket.
The new tariff will also include altered additional charges
when caught for fare dodging or making a trip without a
valid ticket or a document that confirms the right to
reduced fare travel or for pulling the emergency breaks of
a vehicle without a justified reason.
More information: Halina Rakowska, Warsaw Public Transport Authority