Updated

29 April 2014
News
On 11 December 2013, the STIF Board of Directors adopted an
unprecedented plan to reduce pollutants emitted by buses. By
2020-2025 the aim is to have a fleet of all-electric and NGV Biogas
buses in Ile-de-France, consistent with the aim of reducing greenhouse
gas emissions by 20% written into the Plan de Déplacement
Urbain d'Île-de-France (PDUIF – Ile-de-France Urban Mobility Plan).
First stage: purchase of hybrid buses, strengthening of the
NGV Biogas network and installation of particulate filters

From 2014 onwards, STIF has asked the RATP (Autonomous
Operator of Parisian Transports) which operates the bus network
in Paris and nearby suburbs to accelerate the purchase of hybrid
buses to replace the most polluting buses in the present fleet. Up
to 2013 about 10% of vehicles were replaced each year. Due to
an additional investment of €100M financed by STIF 40 to 50%
of extra buses will be replaced between 2014 and mid-2016,
making it possible to eliminate the most polluting vehicles quickly
from the RATP fleet. The aim is to reduce the fine particle
emissions from the bus fleet by 50% in 2 years (mid-2016).
At the same time, the existing NGV (Natural Gas Vehicle) fuel
installations in Ile-de-France will be improved to benefit from developments in this sector. So, 90 new standard buses, operating
on NGV fuel and fitted with EURO 6 engines, will be purchased.
They will be allocated to the RATP bus centre in Créteil (South East
of Paris) where an NGV fuel network is already installed. STIF has
also asked the RATP to carry out studies for a second NGV bus
centre to be created.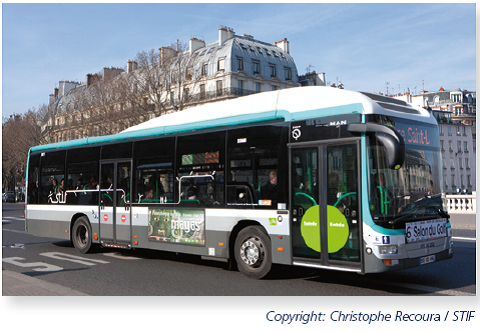 Furthermore, STIF has unlocked €32.5M of grants to enable
private operators running regular suburban routes to equip all
their bus and car fleets with particulate filters. Nearly 950 vehicles
will soon be fitted with these. In addition, STIF will be responsible
for the extra costs of acquiring hybrid buses for 24 routes operated
in dense urban areas by private companies.
2nd stage: towards a 100% electric fleet

In the longer term the aim is to direct bus acquisitions for the
centre of the urban area towards a 100% electric fleet.
Hybrid technology will make it possible to ensure the transition to
a 100% electric fleet in the centre of the urban area, starting with
the plug-in hybrid, as soon as industrial offers are available.
To achieve this, STIF has decided to continue, and develop, the
experimental policy it conducts with operators on future modes
of transport. The expected experiments are as follows:
Ellisup Project: experiments with the IVECO BUS plug-in
hybrid which should be performed on Route 81 (Porte de
Saint-Ouen – Châtelet) in 2014 ;
CHIC Programme: STIF and RATP are candidates within
the context of a European Research Programme for
experimentation with the hydrogen bus ;
STIF and RATP project in collaboration with one or more
industrialists to experiment with operating a route with
10 totally electric standard buses.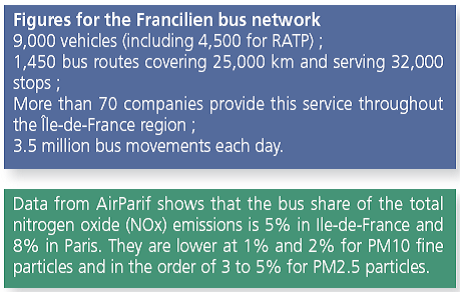 Contact: Cyril Aillaud

Website: www.stif.info / www.stif.org