Updated

27 November 2009
News
Passengers in South Yorkshire could be the
first in the UK to take a continental-style
tram-train under plans announced today by
the Department for Transport, Northern
Rail, Network Rail and South Yorkshire
Passenger Transport Executive.
Tram-trains are greener than conventional trains as they use less fuel, have faster
acceleration and deceleration rates; which
offer passengers better journey times. They
are also lighter which may reduce wear and
tear on tracks cutting the need for disruptive
maintenance works.
Passengers could see tram-trains running
between Sheffield and Rotherham on the
current freight route from Rotherham and
then joining the Sheffield Supertram
network at Meadowhall South.
The trial will assess the environmental
benefits, operating costs and technical
suitability of the tram-trains as well as
testing how popular the vehicles are with
passengers. These are the first steps in
a process which could lead to more
tram-trains operating throughout the UK.
Rail Minister Chris Mole MP announced the
plans on a visit to Meadowhall – where
tram-trains will connect to the Supertram
network. He said: "Tram-train is a new concept for Britain, but
it has already proved a valuable addition to
rail fleets on the continent. It provides seamless
travel from rural and suburban areas direct
into city centres, potentially cutting congestion
and offering an alternative to short and
medium distance car commuting.
"Adapting tram-train to the UK requires
some testing, but while that is underway,
people in South Yorkshire will have the
chance to experience this new type of
vehicle for themselves – and I hope they will
tell us what they think of it."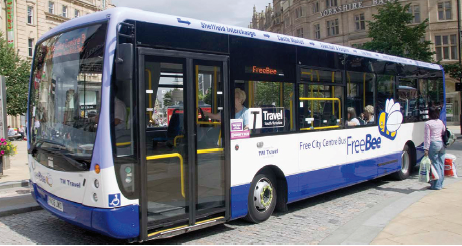 South Yorkshire PTE Director General David
Brown said: "If we can overcome the technical challenges
then tram-trains would bring huge
benefits to the travelling public in South
Yorkshire. They would widen the options
available to those people travelling between
Rotherham and Sheffield and the technology
could eventually be used elsewhere in the
UK too."
Northern Rail will procure the new vehicles
for the Rotherham-Sheffield operation,
while Network Rail is investigating what
works would be necessary to safely accommodate
the vehicles on the UK heavy rail
network.
The project partners are still planning to test
tram-trains on the Penistone Line between
Sheffield and Huddersfield via Barnsley at
a later date after work concluded that, electrically-powered tram-trains are more
economically viable for use in the UK than
the diesel equivalent which was being
proposed for trial on the Penistone line.
For more information: tony.belshaw@sypte.co.uk