According to the results of 2017 research of passengers flow in Vilnius, about 514 thousand passengers are transported in Vilnius by public transport on the working day. In fact, about 24.1% of all travels in Vilnius is done by public transport. Passengers flow in public transport are presented Fig. 1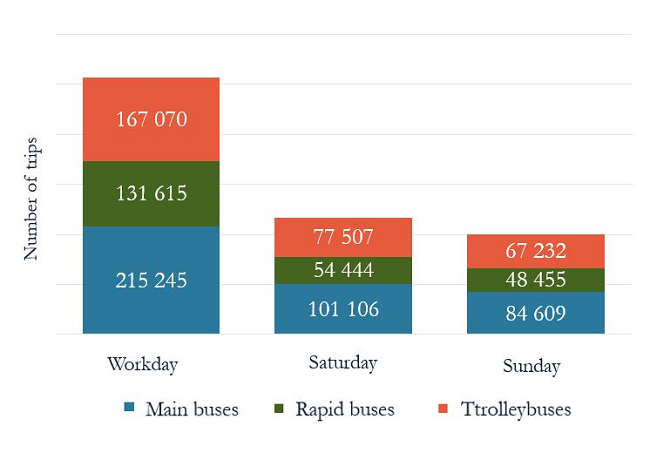 After being launched last autumn, the impressive renewal of Vilnius public transport is successfully continued this year. Since 10 March, some of the operating public transport buses have been gradually replaced by 50 buses manufactured by the Swedish bus manufacturer Scania. This is Scania's first strong step towards the public transport sector not only in Lithuania, but in the entire Baltic region. The consortium of Lithuanian and Latvian carriers – Transrevis UAB and Rigas Mikroautobusu Satiskme (RMS) – invested over EUR 10 million in new Scania buses. The carrier successfully completed the first stages of the Lithuanian capital's public transport renewal last November: 52 new medium-capacity Isuzu Citibus buses entered the roads of Vilnius. The investment into these means of transport amounted to EUR 6.8 million.
Modern Scania Citywide LF buses (Fig.2) meet the Euro 6 emissions standards for diesel engines. Technologically more advanced bodywork construction of Scania buses made it possible for the engineers to increase their capacity. Tri-axle buses can carry up to 48 seated and up to 88 standing passengers. The buses are low-floor and accessible for people with disabilities and parents with strollers. Passengers can use free wireless internet or charge their smart devices. New buses are equipped with video surveillance cameras both inside and outside the vehicle, performing a preventive function of passenger security and making it possible to detect violations if needed.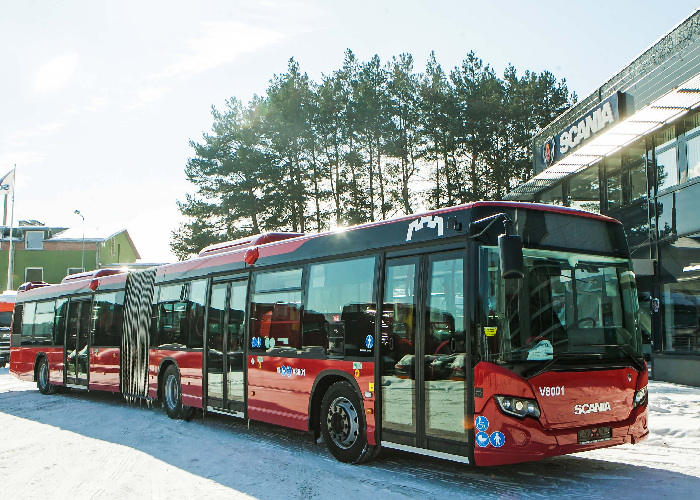 The first batch of new Solaris Urbino buses entered the roads of Vilnius on 21 April of this year. This marked the beginning of the renewal for another carrier in the Lithuanian capital, Vilniaus viešasis transportas UAB – the largest renewal of public transport park in the company's history. 150 new Solaris Urbino buses are planned to be purchased by the end of this year.
Passengers in new Solaris Urbino buses may can charge their smart devices by using special USB interfaces. Additionally, technological solutions have been implemented that improve passenger information in the buses: LCD screens and LED-based route displays. All buses have internal air conditioning systems. Both inside and outside the buses, video cameras are installed which help to ensure a better security of passengers and facilitate the retrieval of lost possessions. Solaris Urbino buses, the same as other new buses in Vilnius, are fitted with the cutting-edge technology engines that meet the Euro 6 emission standard and strict environmental requirements.
The service door sill height to ground in the Solaris Urbino buses is 30 millimetres lower than in the older low-floor buses, facilitating the entry and exit for senior citizens, children and passengers with special needs. Visually impaired passengers can use special warning and ventilation surfaces installed on the ground to help them to travel by public transport safely and comfortably. Furthermore, all buses are equipped with enter and exit ramps for the disabled.
In December 2017, a public procurement contract was signed with Solaris Bus&Coach S.A., according to which 41 new trolleybuses are planned to be purchased. New Solaris Trollino 12 trolleybuses are expected to start operating in the streets of Vilnius by the end of 2018.
The Solaris Trollino 12 trolleybuses will have all amenities that are inseparable from modern public transport. They will be equipped with Wi-Fi and USB access, video surveillance cameras, passenger number control system, air conditioning, alcohol ignition interlocks, and trolleybus location detection systems. They will be comfortable to use not only for the passengers but also for the drivers, and the installed electricity meters will make it possible to react promptly to changes in operating costs and manage them. New generation trolleybuses will be more economical than ever.
The acquisition of the trolleybuses will be financed by the European structural funds, Vilnius City Municipality and the carrier. The design of new trolleybuses will remain as it is (two colours, yellow and red), and the red inserts will correspond with red as the official colour of Vilnius City, which is the colour of all buses in the city. Over the next three years, 20 additional new trolleybuses are planned to be acquired, thus updating almost one third of the trolleybus park.
In total, 250 new buses and 41 trolleybuses will be operating in Vilnius in 2018, which means that almost half of public transport park will be updated, and the capital's public transport will become even faster and more comfortable.
For information: Mrs Loreta Levulyte