Updated

16 January 2008
News
In 2006, STIF decided to launch along with SNCF an ambitious programme of modernisation of the rolling stock for a total amount of €2,09bn. The programme
included:
– Acquiring 172 new trains specially designed for Ile de France services to replace the oldest cars of the fleet. The cost is €1,85bn. Delivery will start end 2009.
– Renovating the double decker cars operated on the RER and other suburban lines for an amount of €108m of which 69% financed by STIF.
– Acquiring 24 AGC bi-mode trains for the amount of €136m of which 35% financed by STIF.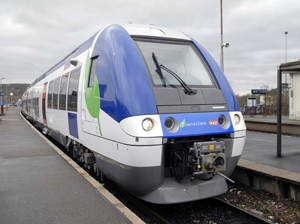 The technology of the AGC bi-mode allows operating on electric powered tracks where possible (mainly in the dense areas) and switch to diesel power when necessary. It is the first time such a technology is operated in the Ile de France region, although AGC vehicles represent already a part of the French regions railway cars fleet.
High capacity (250 seats), ergonomic seats, large windows, climate control, audio and visual information, accessibility to people with reduced mobility and video protection are the main features of these new cars built by Bombardier Transport in Crespin (north of France).
The order amounts to €136m co-financed by STIF and SNCF, including 24 trains of which 19 are to be delivered as of February 2008 and operated on the line Paris-Provins.