Since last December 31, the Madrid Region has completed the process of transition from the old Transport Pass to the new Public Transport Card. After its successful implementation in youth, adults and seniors groups, now comes the turn of the children. Thanks to the creation of the new Public Transport Card for Kids, 4, 5 and 6 years old children will also enjoy the new contactless support and will travel throughout the Madrid Region totally free.
Until last February, public transport in Madrid was free for children under 4 years old. With the new card, children can travel at no cost until the day they are 7 years old. During this period, the trips will be unlimited and they have access to all public transport services in the region.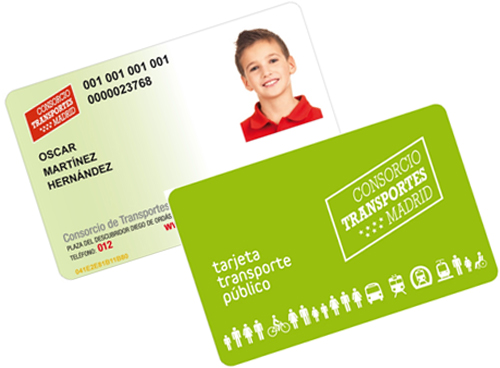 Consorcio Regional de Transportes de Madrid estimates that 220.000 children will request the new card. To do so, families may complete an online application on the website www.tarjetatransportepublico.es, or go to one of the authorized sales point. In both cases, users will receive the card at home.
Like the conventional Public Transport Card, the new card for kids shows the holder´s name, a photograph and a personal identification number, so it is a personal and non-transferable card.
Among the advantages of the new card, could be highlighted that the information about the use of the card, that is stored in a centralized server, will improve the knowledge of mobility.
Moreover, the new card offers significant security advantages. For example, data are not erased when the card contacts with mobile phones or any other magnetic field as it happened with the former Transport Pass. Additionally, thanks to the integration of data in a central server, if a user loses the card, it can be canceled and issued a new one, preventing any fraudulent use.
Madrid favors the sustainable mobility and encourages all citizens to enjoy the large and modern public transport system. Therefore, the objective of the new card is to encourage the use of the public transport since childhood, becoming their normal way of travelling.