Updated

14 September 2017
News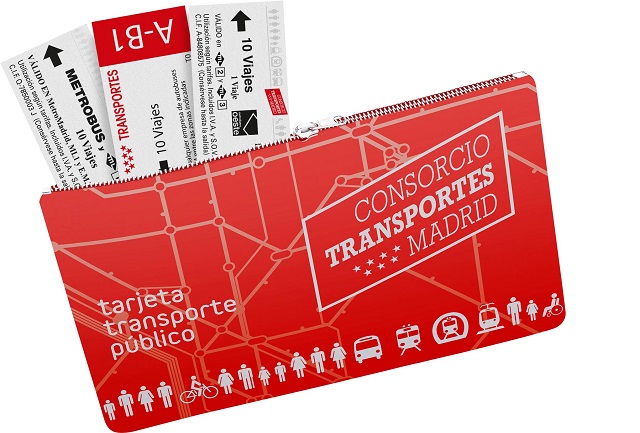 The new transport card is a prepaid multi-person card that single tickets of Metro network and Light Rail can be charged, as well as Metrobus 10-trips tickets or suburban buses.
On 7th July 2017 came into operation the Multi Card, the new prepaid contactless and non-personal public transport card launched by the Regional Transport Consortium of Madrid (CRTM). This card will progressively replace the current paper magnetic coupons.
The Multi Card is a multi-person prepaid contactless public transport card, that can contain non-personal tickets from the fare system: single tickets of Metro network and Light Rail, 10-trips Metrobus tickets, and 10-trips tickets of the urban and suburban buses operators.
At an early stage of implementation, the Multi Card will contain simultaneously one single ticket or a 10-trips ticket of the Metro network and Light Rail, as well as a 10-trips ticket of urban and suburban buses. Besides, the tourist tickets can be charged on this new card. Nevertheless, the single tickets from urban and suburban buses will be still purchased on board at the time of the trip.
The Multi Card is already available at the automatic ticket machines of Metro de Madrid as well as in the licensed selling points network at retail price of 2.50 euro. This price includes issue expenses, selling and management of the Multi Card, and VAT. The Multi Card has a two-year warranty from the date of issue, and a ten-year validity, with no limits for recharges during this period. The Multi Card can be loaded at the Metro automatic ticket machines, in the licensed tobacco shops or the indicated ATMs.
Issuing multi card for free during the 100 first days
To facilitate the access to this new ticket support and its prompt implementation, the CRTM has made available a channel to apply for the card and its free shipment to user's home, through the web address www.tarjetamulti.crtm.es. This promotional action has 100-day application term, until next 14th of October, with a maximum of two Multi Cards for home address and just one for each user, all around the Madrid Region.
During the first months, the current paper magnetic tickets (single tickets, metrobuses and 10-trips tickets) will continue available and in use, so that customers will be adapted little by little to the new card in a simple and gradual manner.
Discounts for large families and persons with disabilities
Discounts in single and 10-trips tickets regarding large families and disabled people can be also implemented in this new Multi Card. Since 2009, these discounts from 20 to 50 per cent have already applied to their personal transport travel pass.