Updated

12 October 2006
News
As Madrid continues to expands its metro network, new rolling stock "Class 9000" manufactured by Ansaldobreda has passed the tests phase and will be able to enter in service in Spring 2007.
It will be equipped with modern communication means, automatic driving systems, CCTV, anti-fire protection and optimisation of energy consumption.
Each train will be able to carry 1260 passengers, due to the specific disposal of seats only on the sides of the carriages.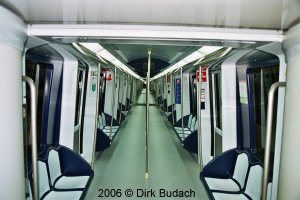 Metro de Madrid bought 26 new trains dedicated to line 7, for a total amount of €226 million. Line 7 extension works will cost about €46 million.
http://www.madrid.org – http://www.metromadrid.es