Updated

25 February 2020
News
In September 2019, the much anticipated Hoekse Lijn metro line was officially opened. The railway line between Schiedam and Hoek van Holland was closed on 31 March 2017 and rebuilt into a light rail line, connecting to the regional metro network lines A and B. The conversion from rail- to lightrail was intended to take 5 months, but eventually took 2,5 years to complete due to technical and safety reasons. The delays and complications during the process contributed to higher project costs, with the overall project exceeding the initial budget by €90 million, eventually costing €462 million.
Nevertheless, the new Hoekse Lijn is proving to be a success, enabling a quicker, more frequent and direct connection between Hoek van Holland to Rotterdam, via Maassluis, Vlaardingen and Schiedam. Along the new line, a new station has also been opened: station Steendijkpolder. The conversion to lightrail plays an important role in increasing the accessibility of the MRDH region and will enable for a more frequent service, with a metro to Vlaardingen-West leaving every 5 minutes during peak hours.
Early days have shown a successful update of the new 24km line, with approximately 24,000 peo-ple tapping in- and out per workday compared to approximately 16,000 previously on the old rail-way line. Building works are now in place to extend the last 1 km stretch to a new station on the Hoek van Holland beach. The expected completion date for this is 2022.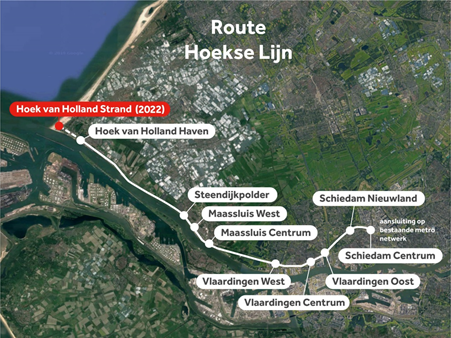 The MRDH has subsidised 90% of this project. The government has contributed the remaining amount. The MRDH is responsible for the operation, management and maintenance of the infra-structure for the new metro line. The municipality of Rotterdam is responsible for the overall man-agement of the project, with the RET as the transport operator and the said municipalities (Maas-sluis, Schiedam, Vlaardingen and Rotterdam) as responsible bodies for the design of the station surroundings (such as feeder roads, cycle paths and parking facilities).