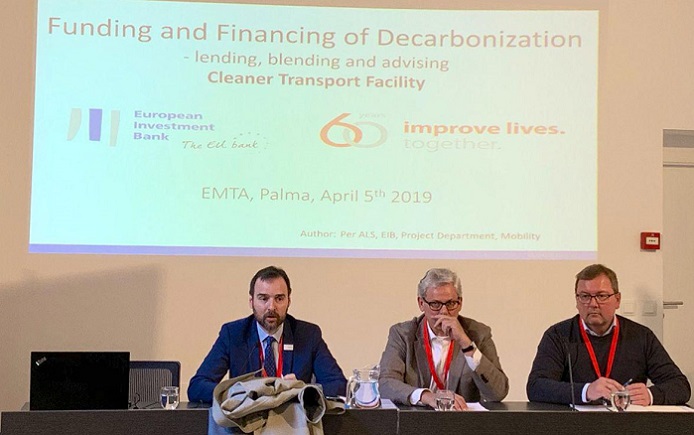 European metropolitan transport authorities joined in Palma to discuss payment and pricing, Mobility as a Service and decarbonization and air quality.
Beginning of April 2019, representatives of 21 EMTA member authorities gathered in Palma de Mallorca on invitation of Consorci de Transports de Mallorca (CTM) for the 43rd EMTA general meeting, discussing ambitions and challenges with regard to clean urban transport, innovations in transport and mobility governance from a public sector perspective. In three focused seminars, EMTA members heard about experiences on the impact of shared and micro-mobility in cities, including Mobility as a Service, new methods of contactless payment and practical experiences with free fare public transport.
Urbanization, demographic and behavioural changes, advances in technology and at the same time shrinking government resources force the EMTA authorities to explore new mobility concepts and concern themselves with the effects of market-, industry- and tech-driven mobility offers, to address the 63 million daily journeys realised in public transport networks of EMTA Members .
A record of 42 representatives from 21 metropolitan authorities listened to the latest news on the proof of concept of E-ticketing and EMV-payment in Palma and the reinvention of ticketing in the Netherlands and were keen on hearing about the experiences of London's TfL with their contactless payment system. After the discussion around these new fare collection techniques, the currently politically popular issue of free public transport was discussed. Experiences from Tallinn (Estonia), with free fare public transport for citizens and the Duchesse de Luxembourg, where the decision was made to introduce free public transport by 2020 give evidence that schemes of free fare transport are based mainly on political drivers. Discussion in the seminar revealed that, from a mobility systems approach, benefits of free fare public transport are at best very limited.
Experience shows that free fares in public transport may be justifiable and financially logical in smaller cities with a less costly and not overly solicited network (e.g. Tallinn, Dunkirk). Such cities have a low commercial return and benefit from a large fiscal potential, notably when employers pay taxes or reimburse worker's transport fares. Examples of larger cities that have sustainably adopted free fares are rare and explainable from a favourable fiscal context, enabling them to cover the full cost incurred for public transport services. Due to rescinding financial capacity metropolitan areas are facing, their number is nonetheless relatively small. In those cases, free fare would by itself not be adequate to cope with the challenges of increasing mobility like congestion, health risks from pollution and noise and avoiding societal exclusion. Alternative measures based on a coherent, multi-modal policy that raises resident's sensitivity to a more rational use of their car, high-quality public transport and promotion active modes of transport will prove more effective than free fares for (groups of) residents alone.
Practical cases presented during the seminar gave evidence that transparent fare setting, simplicity and convenience in providing tickets have a more significant impact on public transport usage than strongly discounted or zero fare setting.
In Palma EMTA showed its strong resolve to keep working closely with POLIS, the association of European cities and regions working on innovation in transport. POLIS Secretary-General Karen Vancluysen provided insights in the issues that cities see themselves confronted with around the governance of new mobility services. Smart mobility concepts provide great opportunities for both public transport systems and cities at large, however, clear alignment with societal goals is necessary which demands for clear governance and an evolution of the role of cities and public authorities.
EMTA and POLIS aim to collaborate to demystify trending concepts around Mobility as a Service and Shared Mobility and to create a clear perspective of the public sector on how these innovations can bring benefits to cities rather than deteriorate public space and depletion of public value and assets. In this regard, an EMTA discussion paper on the set-up of Mobility as a Service from an authorities perspective is due to be published shortly.
Public transport authorities wish to continue the efforts to push for cleaner transport fleets addressing zero emission. Similarly, they also see the need to take charge of the local pollutants emitted from public transport. Hence, EMTA aims to start a focus group of members motivated to develop a joint approach on decarbonization and air quality policies. In less than 2 years the aim is to produce a coherent understanding of the transition to sustainable bus fleets and air quality.
Next to these technical seminars, EMTA members learned about the visions and plans of CTM and the government of the Balearic islands concerning the transition to sustainable mobility on Mallorca, in which a new contracting method for public transport, a new, price winning E-payment system and the introduction of a clean transport fleet are to increase the role of public transport on the island, leading to a more sustainable future.
Lastly, with great pleasure, EMTA welcomed the Metropolitan Transport Authority of Porto, Portugal, to its ranks. Porto is the 27th member of EMTA.