Updated

20 November 2008
News
A new public transport procurement organization is being
created in the Helsinki region. The new organization will bring together the different bodies currently responsible for the organization of public transport services in Helsinki and in the rest of the metropolitan area. The new organization is expected to attract also new members from among municipalities surrounding the Helsinki region. The aim is that the new procurement organization will start operating in the beginning of 2010.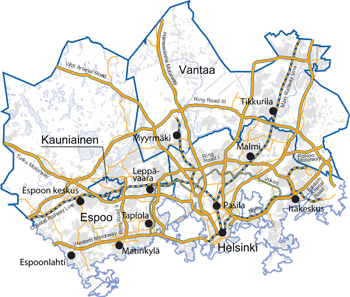 Work on reforming the Helsinki region public transport begun in spring 2008. The two public transport organizations to be merged, Helsinki City Transport (HKL) and Helsinki Metropolitan Area Council (YTV), have been preparing the new organization together with the cities of Helsinki, Espoo, Kauniainen and Vantaa. The municipalities of Kerava and Kirkkonummi have joined in the process this fall.
HKL is responsible for planning and procuring Helsinki internal public transport services, whereas YTV is responsible for public transport services in Espoo, Vantaa, Kerava and Kirkkonummi. Initially also the Government was considering the possibility of participating in the new Helsinki metropolitan area public transport organization. The Government has, however, withdrawn its participation, in order to pursue the principle of regional equality.
YTV has also recently started working on a long-term transport system plan PLJ 2007 for the Helsinki region including managing mobility demand, developing public transport services, increasing transport system efficiency and developing infrastructure projects (see EMTA News 28 April 2007). The number of municipalities participating in the work is greater than ever so far : altogether 14 municipalities are involved. Expectations set for
the new organization and for transport system planning are similar. The new procurement organization is expected to be a
strong actor with as many member municipalities from the
entire metropolitan commuting area as possible.