Updated

28 January 2010
News
Francilien is part of the rolling stock renovation policy of STIF the transport
authority: 172 trainsets will be delivered within April 2015, they will allow the
discard of 40 years old push-pull trainsets no longer able to meet reliability
standards and passenger comfort expectations.
Francilien features innovation and leading-hedge technology. Car bodies are just
13.24m long but wider than usual (3.06 m), the extra 0.24m allowing larger
seats and larger centre aisles which helps passengers getting around and finding
a place. Open inter-car gangways give a view along the length of the train
reinforcing the feeling of security. The LED lighting is a striking feature of this
train, it offers the possibility of changing lighting effects and is much sober in
energy consumption. Underfloor heating and air conditioning ensure comfortable
temperature.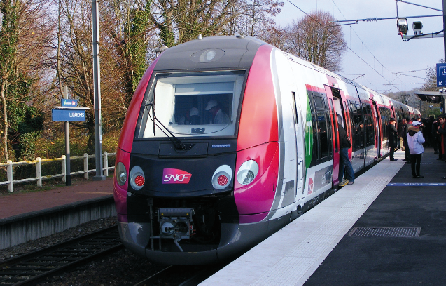 Passenger information will be displayed on flat screens showing a dynamic route
map with the next stop and the final destination and simultaneous audio
information will be provided.
Accessibility for all is achieved at end cars with
a retractable flap to permit level access from
920mm height platforms. Where station
platforms are lower, folding steps are provided.
As the majority of station platforms are lower
(550mm), a costly programme of works, within
the framework of the Accessibility Master Plan,
is launched to raise the platforms to 920mm
above rail.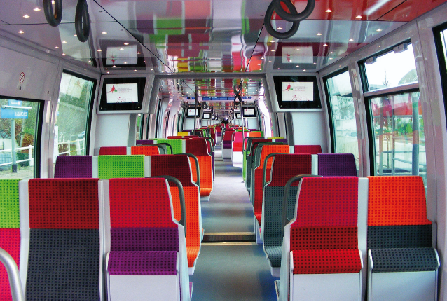 It starts with line Paris-Luzarches, the
first line where Francilien enters service.
Continuous studies are undertaken to extend
the Francilien service on the east part of the rail
network (Paris-Est) in July 2012 and on the west
part (Paris Saint Lazare) in January 2013.
Besides raising platforms, works in stations
consist of implementing beacons (to inform the
train about the platform height inducing for
example the unfold of the folding steps to
accommodate lower platforms) and other
necessary signing.
The introduction of the 172 trainsets is also an
opportunity to reallocate according to the Rolling
Stock Master Plan, trainsets still worth ten to
twenty years more duty. In 2016, the whole
fleet will be either new or recently refurbished.
The SNCF double-decker cars will be gradually
reallocated on the longer routes where passenger
expect to travel seated as opposed to standing,
while Francilien will be mostly dedicated to close
suburbs routes where higher frequency provides
for capacity.
Francilien design integrates the logos of SNCF
(bright red) and STIF (blue and orange on silver)
on a white coat background.
The purchase from Bombardier of 172 trainsets
as firm order amounts to €2 bn, 50% paid by
STIF and 50% by SNCF. Studies are pursued to
evaluate further needs.
Francilien key figures
172 trainsets (1321 vehicles),
length of 95m (seven-car train) or 112.5m
(eight-car train),
body width 3.06m,
maximum speed 140km/h,
overall capacity with a standard of 4
people/square-meter is from 760 passengers
(seven-car train) of which 304 seated,
to 920 passengers (eight-car train) of which
380 seated,
Delivery from 2009 to 2015 (40 trainset/year).
For more: www.stif.info