Updated

26 November 2019
News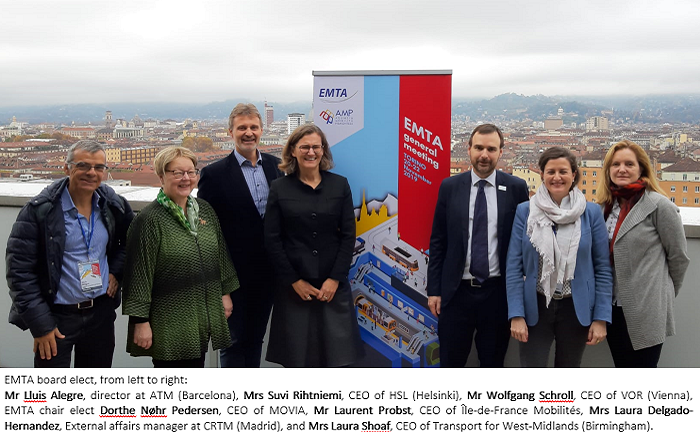 Delegates of the transport authorities from various European metropolitan areas met in Turin, Italy, on November 21st and 22nd for the 44th General Meeting of EMTA, the association of European Metropolitan Transport Authorities. The assembly discussed the important role of regional rail transport for Europe's city regions and reflected in presence of a representative of the European Commission about members experiences with EU Regulation No 1370/2007 on Public Service Obligations (PSO) in transport, exactly 10 years after entering into force.
The 44th General Meeting marked the start of a new two-year term for the EMTA board and presidency. The assembly elected mrs Dorthe Nøhr Pedersen, CEO of MOVIA, the Transport Authority for Copenhagen and Zealand, as new EMTA president. Mrs Laura Delgado-Hernandez, external affairs manager at CRTM (Madrid) was confirmed as EMTA treasurer and Laurent Probst, CEO of Île-de-France Mobilités, remains Vice-president.
In Turin, Zarzad Transportu Publicznego (ZTP) from Krakow and TheTA from Thessaloniki, joined as new members, thus making EMTA a network of 29 European public transport authorities.

The association of European Metropolitan Transport Authorities unites the transport authorities from Europe's capital regions and larger metropolitan areas to jointly address challenges in mobility and public transport. Through exchange of knowledge and experience, EMTA aims to enhance sustainable mobility for over 90 million Europeans living in the areas serviced by its members and increase the quality of service for the more than 68 million trips are made in the networks of the EMTA authorities every day.
EMTA Press release
Contact: Mr Ruud van der Ploeg, EMTA secretary-general.