Updated

19 December 2006
News
Bombardier Transportation signed on 22 November a contract with SNCF, French National Railways Company for the supply of new trains to be used on the Greater Paris / Ile-de-France suburban network. The initial firm order for 172 trains is valued € 1.4 billion.
Deliveries of trains should start in November 2009 and continue to 2015, with 30 new trains delivered every year. With the optional part of the contract, still to be decided, SNCF could acquire 372 trains in total for an overall amount of € 2.4 billion.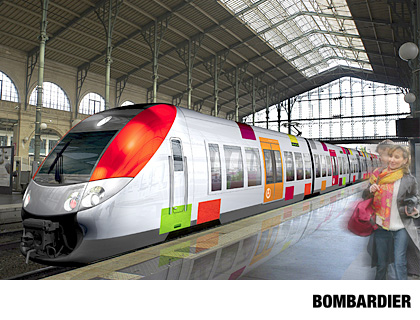 Bombardier Transportation's future Ile-de-France commuter train is an articulated train featuring extra-wide carriages which provide an unusually large internal volume for passengers, wide seats and especially wide doors to increase the ease and speed of passenger flow. Each train consists of seven or eight carriages in a single unit and it can also be operated as a double or triple unit.
The capacity of the trains will vary from 800 to 1,000 passengers, depending on the configuration and layout.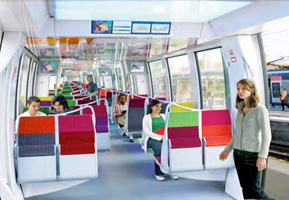 The train will be designed, manufactured and built at the French site of Bombardier Transportation.However, Bombardier Transportation France will sub-contract part of this contract to Alstom Transport, in particular engineering hours and the construction of some of the intermediate carriages and bogies.
Official presentation day pictures gallery (in French)