Updated

17 August 2021
News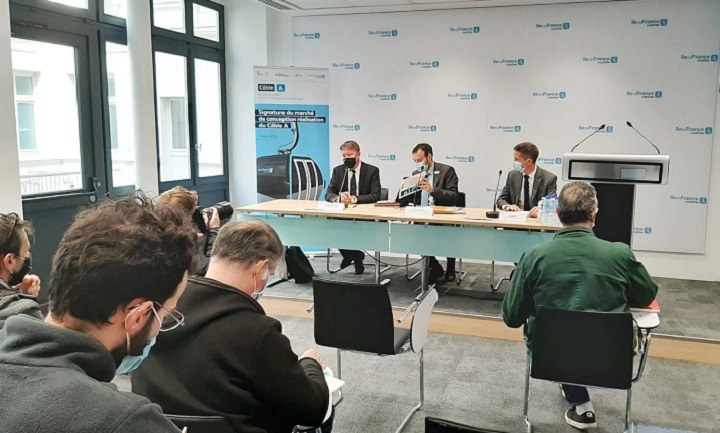 In May 2021, Île-de-France Mobilités, the body in charge of transport in the Île-de-France region, signed a first contract worth 110 million euros with the group DOPPELMAYER France SAS (agent) / SPIE BATIGNOLLES GC / France TRAVAUX / EGIS RAIL / ATELIER SCHALL to design, build and maintain the Cable A service.
The first cable car in the Paris region, with Île-de-France Mobilités as contracting owner, will run from Créteil to Villeneuve-Saint-Georges via Limeil-Brévannes and Valenton. It will be used by over 20,000 inhabitants and 6,000 working people, providing a practical and innovative response to the daily commuting difficulties of inhabitants in Val-de-Marne (an area south-east of Paris). The goal set by the project group is to begin the work in 2022 and to open the service to the public in mid-2025.
The cable car format is adapted to the specific features of the region, which has numerous barrier elements (multiple railway lines, road infrastructures) and hilly terrain. This has created isolated areas without links to public transport networks (metro or train) and areas where buses can no longer meet the needs of local residents or working people in an effective way.
The new cable car line is a specific form of public transport. It will be linked with other modes of transport, including the Parisian metro network in Créteil (line 8), and will be part of the region's existing fare system with no difference between a tram, bus or metro ticket.
The cable line is about 4.5 km long and has five stops.
When the service is launched, some 1,600 passengers will be able to take the cable car in each direction during the rush hour in comfortable, safe cabins with room for 10 people seated.
The time between each cable car will be less than 30 seconds. A trip from one end of the line to the other will take a little under 17 minutes during the rush hour.
Lead player:
The project is managed by Île-de-France Mobilités, the organising authority for transport in Île-de-France and the contracting owner of the project.
Funding:
The infrastructure design and construction studies for the project were funded by the French state (21%), the Île-de-France Region (49%) and the Val de Marne Department (30%).
Île-de-France Mobilités is funding the cable cars and the operating costs of the line, as it does for all "regular" public transport lines.
The local authorities (the towns of Créteil, Limeil-Brévannes, Valenton, Villeneuve-Saint-Georges and the Grand Paris Sud Est Avenir and Grand-Orly Val-de-Bièvre Seine-Amont urban communities) and other local players are also associated with the project.
More informations: