Updated

30 January 2009
News
BEST stands for Benchmarking European
Service of public Transport. It is a non-profit
project that started in 1999 with the overall
objective to increase the use of public
transport in European urban areas.
In 2008, the following cities participated in BEST:
1. Berlin

2. Copenhagen

3. Geneva

4. Helsinki

5. Oslo

6. Stockholm

7. Vienna
BEST AND THE EMTA BAROMETER [[Benchmark of public transport networks among EMTA
members]]:

The EMTA Barometer of Public Transport compares
the following aspects of participating
city/regions:
Basic Socio-Economic Data of Metropolitan
Areas (population etc.),
Mobility (modal split etc.),
Description of the Public Transport
System,
Fares and Financial Aspects.
The BEST Survey compares how the citizens
perceive the public transport service, a
useful comparison in addition to the "hard
facts" provided in the EMTA Barometer.
FOCUS ON CUSTOMERS: The BEST objective
is to strengthen public transport organisations
focus on customers needs and expectations,
and to establish a learning process
among public transport professionals in
Europe.
COMMON SURVEY:

A common survey is
conducted each year in the beginning of
March. This is the only survey in Europe
that collects comparable satisfaction data
for public transport on a regular basis –
and is in this respect a unique source of
information. 1.000 citizens are interviewed
in each of the participating cities /
regions about their attitudes to public
transport.
This makes it possible to compare
results and benchmark the participating
cities, and gain insights into the differences
between them. In this way each
city gets a better understanding of how
well the public transport service performs
in the eyes of the customer. The survey
collects data about how citizens' perceive
the following aspects of public transport:
Citizens' Satisfaction (overall satisfaction
with public transport),
Personal Security and Safety,
The main results for the 2008 survey are
shown in the figure below (see [http://
best2005.net/media/files/report_best_s
urvey_2008 for more results->http://best2005.net/media/files/report_best_s
urvey_2008 for more results]). Geneva
achieved the highest overall satisfaction
score in 2008. 78 % of the population in
Geneva was satisfied with the public
transport system in general. According to
the study, the citizens of Berlin were very
satisfied with the traffic supply, with a
satisfaction score of 86 %!.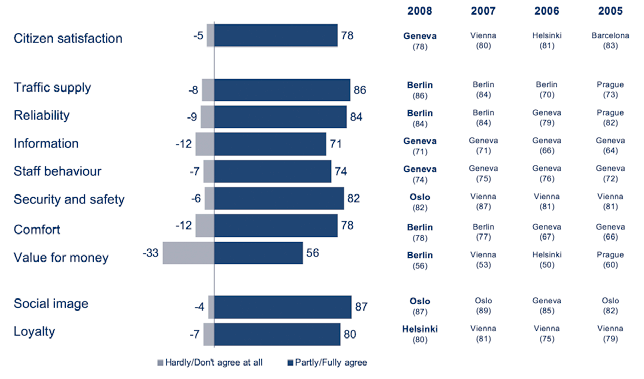 EXCHANGE OF IDEAS AND EXPERIENCE:

Each year a seminar is held for the BEST
participants in a European city. The main
objective of the seminar is to exchange
ideas and experiences, and to create and
maintain a network between public transport
professionals. In addition a number of
so called common interest groups (CIGs)
are established to compare processes and
activities within a specific and agreed area.
The common interest groups (CIGs) normally
have a couple of meetings between each
seminar, where the agreed topic are
studied more in-depth. In 2009 a couple
of one-day workshops will also be held, to
stimulate networking and exchange of
ideas in various ways.
WANT TO PARTICIPATE OR NEED MORE
INFO:

If you consider participating in BEST
2009 or would like more information you
can contact BEST Chairman Per Gellert in
Movia by e-mail: peg@moviatrafik.dk
or BEST Project Manager Kjetil Vrenne,
e-mail: kjetil.vrenne@vrenne-enable.no
telephone + 47 922 53 471.
Deadline for cities that want to take part
in the BEST Survey is the 2nd of February
2009.
For more info about BEST you could also take a
look at our website:
http://best2005.net