Vilnius : Financing/Pricing data
Funding of public transport (2013)
Principles of public transport funding:

Main public transport financing sources – city budget and loans. Operators receive funding via MESP, except for subsidies. Those are paid directly by municipality to operator. Operators also get compensation for privileged passengers.
In June, 2013 operators have received around 55% of funds from ticket revenues, 31% compensation for privileged passengers and 14% of subsidies.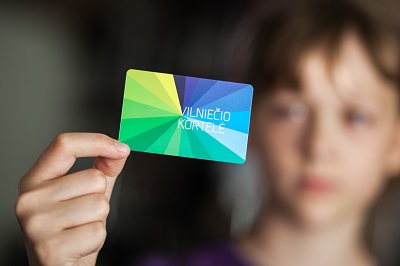 Fares (2015)
There are 22 types of tickets which are divided into main 3 groups: single ticket, monthly ticket and fixed term ticket. There are also several groups of passengers which are subsidized, mostly pupils, students and elder people.
| | |
| --- | --- |
| Single tickets | Price in €* |
| Tickets for buses or trolleybuses |   |
| Single ticket (30mn) | 0,64 |
| Single ticket with 50 % discount | 0,32 |
| Single ticket with 80 % discount | 0,13 |
| Single ticket (60mn) | 0,93 |
| Single ticket with 50 % discount | 0,46 |
| Single ticket with 80 % discount | 0,19 |
| Single ticket in vehicle (1 route) | 1.01 |
| Single ticket with 50 % discount, in vehicle | 0,51 |
| Single ticket with 80 % discount, in vehicle | 0,20 |
| | |
| --- | --- |
| Monthly tickets | Price in €* |
| Tickets for buses or trolleybuses |   |
| Monthly ticket | 28,96 |
| Monthly ticket with 50% discount | 14,48 |
| Monthly ticket with 80% discount | 5,79 |
| Monthly ticket for working days | 26,07 |
| Monthly ticket for working days with 50% discount | 13,04 |
| Monthly ticket for working days with 80% discount | 5,12 |
| | |
| --- | --- |
| 3 month, 6 month and 9 month tickets | Price in € |
| 3 Month ticket | 86,89 |
| 3 Month ticket with 50% discount | 43,44 |
| 3 Month ticket with 80% discount | 17,38 |
| 6 Month ticket | 173,77 |
| 6 Month ticket with 50% discount | 86,89 |
| 6 Month ticket with 80% discount | 34,75 |
| 9 Month ticket | 260,66 |
| 9 Month ticket with 50% discount | 130,33 |
| 9 Month ticket with 80% discount | 52,13 |
| | |
| --- | --- |
| Fixed-term tickets | Price in €* |
| 1 day (24 hours) | 3,48 |
| 1 day (24 hours) with 50% discount | 1,74 |
| 1 day (24 hours) with 80% discount | 0,70 |
| 3 days (72 hours) | 6,08 |
| 3 days (72 hours) with 50% discount | 3,04 |
| 3 days (72 hours) with 80% discount | 1,22 |
| 10 days (240 hours) | 11,87 |
| 10 days (240 hours) with 50% discount | 5,94 |
| 10 days (240 hours) with 80% discount | 2,37 |
Current developpements and projects
E-ticketing project (one integrated electronic ticket in all modes of PT).
Rolling Stock: new vehicles (buses and trolleybuses).
Participation in European projects (currently).
M.transport project (M.taksi, M.parking and M.stops are mobile applications that allow a user to book a taxi, pay for parking and track the real time information on PT arrivals in Vilnius).
New private operator tender
Park & ride pilot project
Preparation for SUMP