Stuttgart : Identification of metropolitan area
Presentation :
The Verband Region Stuttgart provides a framework for regional co-operation between the capital of the federal state of Baden-Württemberg, the city of Stuttgart, and the surrounding administrative districts of Böblingen, Esslingen, Göppingen, Ludwigsburg, and Rems-Murr-Kreis.
Founded in 1994, the Verband Region Stuttgart is the political entity for the Stuttgart Region with its own parliament. The aim is to promote diversity, a high standard of living, mobility, and economic strength. Important responsibilities of the organization are spatial planning, economic development, and public transportation. In this sector, the Verband Region Stuttgart is responsible for such things as the suburban railway system, the new express bus services, as well as the Park & Ride system and regional traffic management.
Main figures:
Surface: 365 397 ha. = 3653,97 skm
Population: 2014: 2.69million
Unemployment rate in 2015: less than 4 %
GDP in 2013: € 124 billion
City of Stuttgart and five surrounding districts: 179 communities
Map showing the region within Germany (source: Verband Region Stuttgart)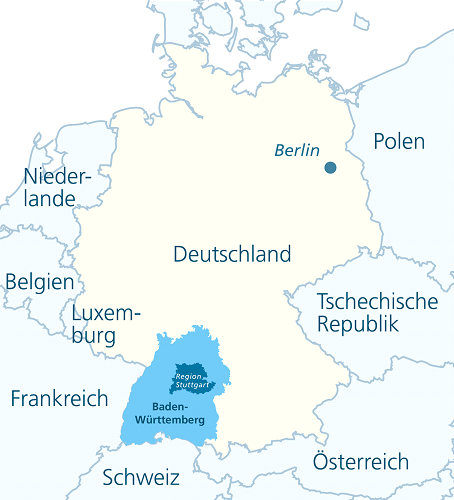 Map of the Stuttgart Region (source Verband Region Stuttgart)