Palma de Mallorca : Financing/Future developments
Fundings (2013)
PT services are funded by fare collection and a transfer of funds from the regional government to cover the deficit, according to the following table:

The funding of the CTM is the following: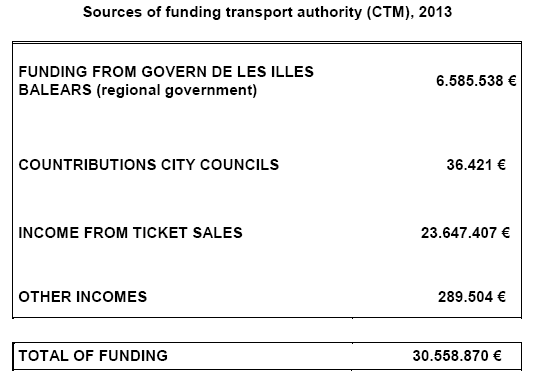 Future developments
Currently, the CTM is working on the Public Transport Master Plan for Mallorca, which will design the new interurban bus public transport network according to principles of equity and sustainability. As all the companies currently in operation end their contracts at the end of 2018, this represents a great opportunity to create a new transport network, more competitive with private transport, better connected, more punctual and more attractive.
Tender of all inter-urban bus lines to be published during first months of 2017 (expected start date new contracts January 2019)
Fare integration with EMT Palma, in order to offer a single fare system to public transport users of Mallorca.
Preparation of the new fare system to be launched in January 2019.