Manchester : Public transport networks
What we do
Transport for Greater Manchester is the delivery arm of an elected body: the Greater Manchester Combined Authority, a new strategic regional authority with functions relating to economic development and regeneration, regional planning, transport, skills and training, and air quality.
Transport for Greater Manchester is responsible for implementing the policies and decisions of the elected body.
This includes:
paying for bus services which are not provided commercially by bus operators.
owning bus stations, shelters and stops in Greater Manchester and working to ensure all the information passengers see there is correct.
subsidising concessionary fares and free travel facilities on buses throughout the region, including paying to keep non-profitable services running where passengers need them most
carrying out the policies of an elected authority to ensure that local rail services meet local travel needs
owning Metrolink
campaigning to promote public transport in Greater Manchester, to improve the environment and cut congestion
Other added responsibilities:
The installation, maintenance and management of traffic signals
Maintaining highway databases, surveys, modelling, analysis, appraisals and advice
Highway route performance, incident response and event management via a traffic control centre
Partnership working to provide a shared strategic road safety analysis and recommendations on interventions
Preparation of the Local Transport Plan (SUMP), for approval by the Combined Authority, is also carried out solely by TfGM.
2014/15 Patronage figures for bus, tram, and rail:
Bus: 211m
Metrolink: 31m
Train: 25m
88% of 211m bus trips (185m) are made by GM residents. 12% (26m) by visitors, tourists or business travellers.
84% of 31m Metrolink trips (26m) are made by GM residents. 16% (5m) by visitors, tourists or business travellers.
96% of 25m Train trips (24m) are made by GM residents. 4% (1m) by visitors, tourists or business travellers.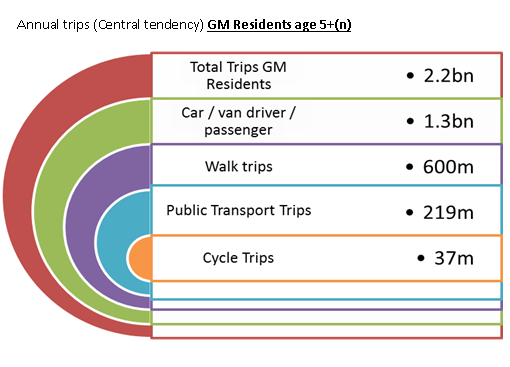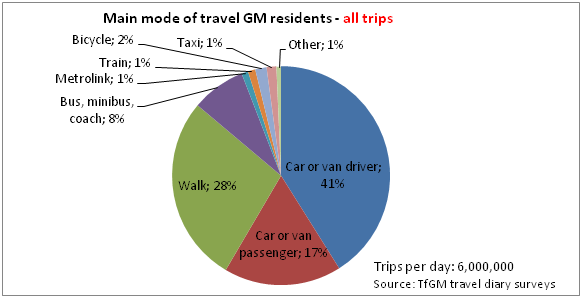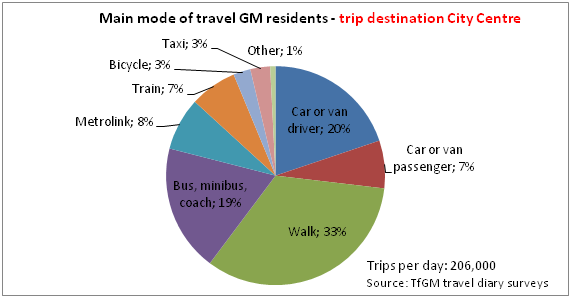 Map overview of the GM bus network