Updated

2 January 2006
News
The Red Line and the Green Line that entered in service in 2004 constitute Dublin light rail scheme, LUAS.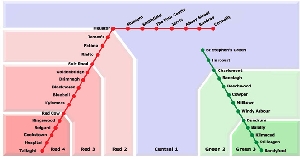 These two lines do not connect: there is a 15-minute walk between Abbey Street on the Red Line and St Stephen's Green on the Green Line. However, tickets bought for a journey starting on one line and finishing on the other are valid for the whole journey. There is a significant public demand to fill this missing link.
The Railway Procurement Agency (RPA) proposed in November a new plan to link the Red and Green LUAS lines. RPA is an independant Statutory Body in charge of securing the provision of light railway and metro infrastructure, acquiring and facilitating the development of land adjacent to any railway works and developing an Integrated Ticketing System in Ireland.
According to RPA, joining the two LUAS line would increase the patronage by 25%. In 2005 more than 20 million passengers have been carried, representing 70,000 passengers a day. 5 options have been studied and will be debated with the local population, businesses and commercial interests prior to further technical investigations.
www.luas.ie – www.rpa.ie – www.dto.ie