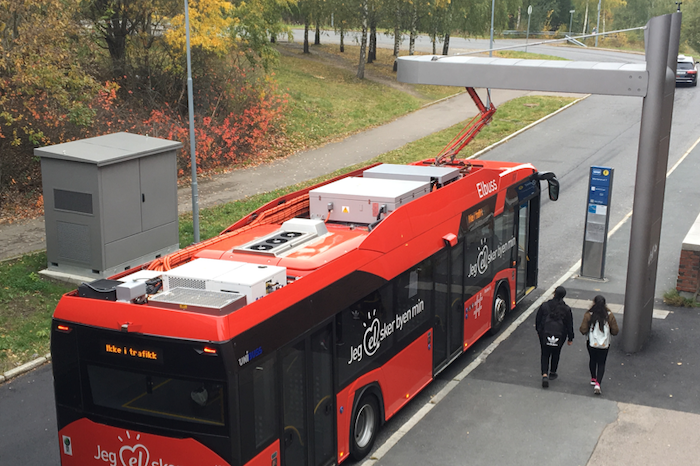 In Oslo City and Akershus county, Ruter estimates that there is only nine years left until all public transport will be zero emission. This includes buses and boats. A big step is taken this year.
Oslo has had six electric buses in operation since 2017, split on 2 buses each for three PTOs. There have been challenges, but the buses have proven that they can handle the winter climate quite well. Unibuss, which is one of the three companies running, has traveled 25,000 km with its two Solaris Urbino Electric 12m buses on line 74, using 300kW Siemens OppCharge.
Nobina's articulated BYD buses have driven over 60,000 km on line 31, charging on the depot with 80kW plugin. Norgesbuss have been testing a 400kW fast charger from Eko Energetyka. Overall there have been faults on chargers, batteries and other components, which has given valuable experience for the PTOs, but no major showstoppers for continuing the roll-out of electric solutions. The test has been running in parallel to preparations for the initial roll-out of over 100 electric buses in 2019.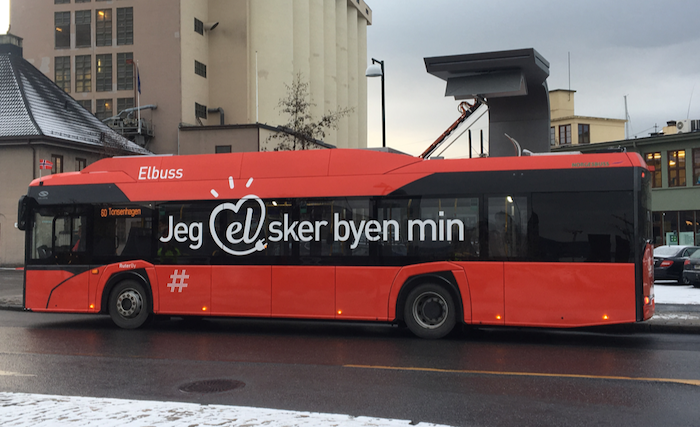 During the 2019, Oslo city will phase in 70 new electric city buses in operation and 39 electric city buses with seats belts will start operation on Romerike, north-east of Oslo. Most of the fleet will be charged by bus mounted pantographs on the depot. Also, Oslo will get its first electric buses with a heat pump climate system with CO2 coolant, which will demonstrate all-electric heating for cold temperatures below -10C.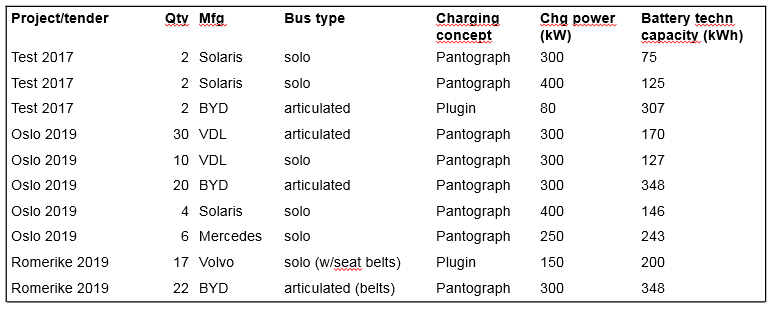 The goal is that all buses under the Ruter umbrella in Oslo and Akershus will be emission free by 2028, preferably as soon as possible for each of the approx 20 contracts. In practice, this means that they must be powered by electricity, either from batteries or from hydrogen via fuel cells. In 2019, 15 per cent of the city buses will be electric, 10 per cent of the total bus fleet and 70 per cent of the boat trips. Norway's busiest passenger ferry line Oslo (Aker Brygge) – Nesodden, has three big passenger ferries which will be converted to battery electric during the summer and autumn of 2019. Finding space for electric infrastructure was no easy task. The dock location in front of the Oslo City Hall is a historic, busy part of Oslo. After exploring many different locations, the choice was made to convert offices on the pier into a big 8MW substation, converting 11kV into 690V and 400V.
90 percent of the bus fleet is to be exchanged by 2028, if not sooner. To give some insight into the possible scenarios for how the transition to zero emission can be executed, Ruter has published a report which shows the different possibilities and limitations for converting the fleet of over 1200 buses to run on electricity or hydrogen. The yellow area shows the ambition to convert the fleet to zero emission solutions as early as possible, within the limitation of what the market has to offer in public tendering processes.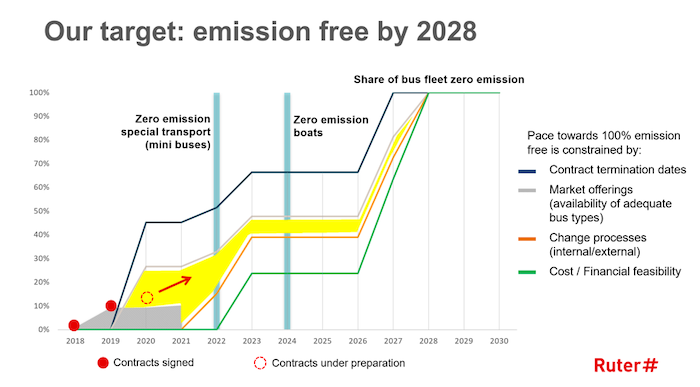 The latest contracts which have been signed for bus services are prepared for the possibility of exchanging buses during the contract period of 8-11 years, should the technology and price level indicate that either PTA or PTO wants to initiate a migration to emission free solutions before the next tender. Minimum requirements for the last contracts has been Euro VI and renewable fuels, as Ruter will demand 'fossil free' renewable fuels on the whole fleet by the end of 2020.
For electric solutions, the PTO is responsible for buying and operating both buses and charging infrastructure. This is because Ruter wants the market to choose a system optimized for complete operations, including TCO costs. To ensure a neutral competition after 8-10 years usage of the charging infrastructure, and to prevent a lock-in on a possibly outdated charging concept, the charging infrastructure will be taken over by Ruter at the end of the contract period, where Ruter as the PTA can choose to offer this used existing charging infrastructure in the next tender. As a publicly owned PTA, Ruter is working on obtaining land and street space to enable the construction of charging stations at end stations.
For the phase-in of electric buses in Oslo in 2019, the 12m buses will be using the existing charging infrastructure on the end stops. All articulated buses will be charged with 300kW in the depots. For the coming years, Ruter will keep considering the need and feasibility of establishing fast charging stations at the end stops, terminals, or on locations near the end stops of busy bus lines. There is also an ambition to explore possibilities of sharing charging infrastructure with other vehicles in the city, such as tourist buses, trucks and delivery vans.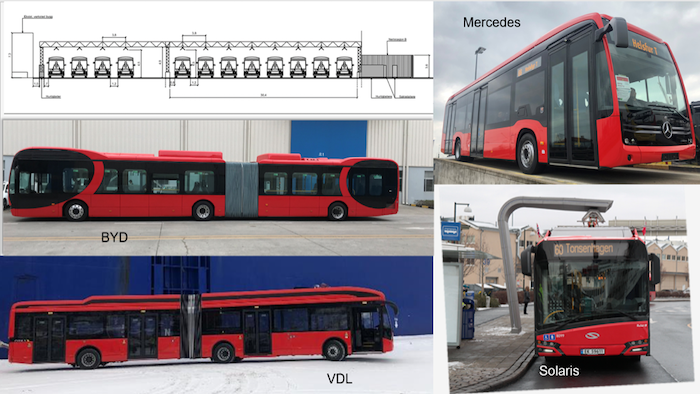 In the end of April, Ruter will publish the result of the tendering process for three 'Region West' contracts, with over 250 buses in Asker, Bærum, Hurum and Røyken. For this tender, most of the buses are category II buses, with emergency exit hatches on the roof. For this kind of regional buses, the market has so far not offered zero emission solutions, but Ruter has implemented clear incentives to have these products available, and are waiting to see the results of the latest offers and negotiations. Over 50 of the buses are allowed to be category I (city bus type) with seat belts, so it is expected that the result should be at least 50 more zero emission buses for start of operation in 2020. The tender also includes a requirement to offer an option for ten hydrogen buses, including fueling solution. When the price and solution for this is known, Ruter can choose to execute this option.
Contact; Ruter As, Jon Stenslet, Manager Vehicles & depots