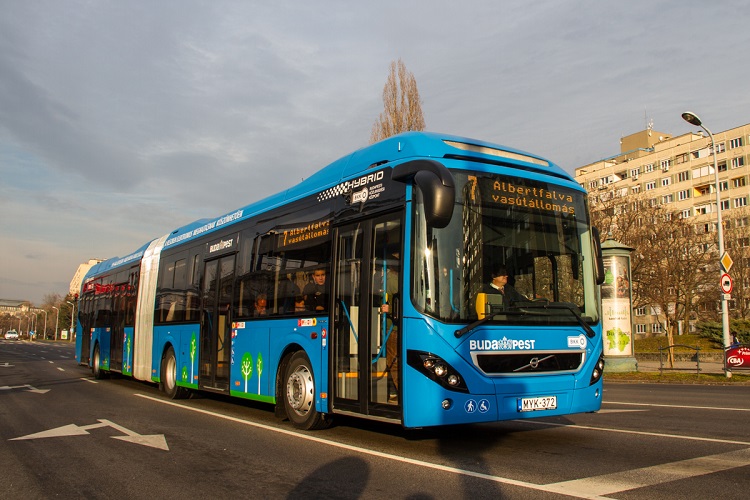 The last vehicles of the total of 28 hybrid buses were delivered to Budapest on 1 March 2015, thus the Hungarian capital can now boast one of the largest hybrid fleets in Europe. The brand-new articulated buses feature EURO VI- diesel engines along with electric propulsion which will be used when accelerating to 10-15 km/h (it depends on engine load) as well as during dwell times, making the vehicles extremely environmental friendly.
In order to ensure safety, each bus is equipped with 11 on-board security cameras. The vehicles also have real-time passenger information systems and air-conditioning. The low-floor hybrid buses arrived in several stages from mid-January and already now contribute to lowering pollution and noise levels in Budapest.
BKK Centre for Budapest Transport, the municipal transport organizer, aims to have a fully accessible bus fleet by 2018. The hybrid variety of the Volvo 7900A type buses are operated by a private service provider commissioned by BKK; 25 buses of the fleet are required to operate in scheduled service. A total of 53 regular, diesel Volvo 7900A buses already serve the Budapest agglomeration area.
Based on the manufacturer's data, diesel-electric hybrid technology makes it possible to achieve 35% less fuel consumption compared to diesel-only operation.
For more information: Tamas Kajdon