Updated

23 January 2018
News

By the 1st of January 2015, a new Public Transport Authority will be formally launched in The Netherlands: the Metropolitan Region Rotterdam Den Haag (MRDH), resulting from a merger of two regional transport authorities stadsregio Rotterdam and stadsgewest Haaglanden. This article briefly explains the scope of the area, structure of governance, legal tasks and budget, organization and its core focus.


Area
MRDH (2,2 mln inhabitants) is a part of the 'Randstad', containing Amsterdam, The Hague / Rotterdam and Utrecht (total 6 mln inhabitants). Rotterdam / The Hague area also contains the biggest European seaport, an airport, Europe's biggest green housing area (Westland), the seat of the national government, the international city of peace and international law (The Hague) and some big international company headquarters like Royal Dutch Shell, Unilever.
MRDH will be one of the two newly launched Public Transport Authorities (the other one being the Metropolitan Region of Amsterdam, 2 mln inhabitants).


Governance & funding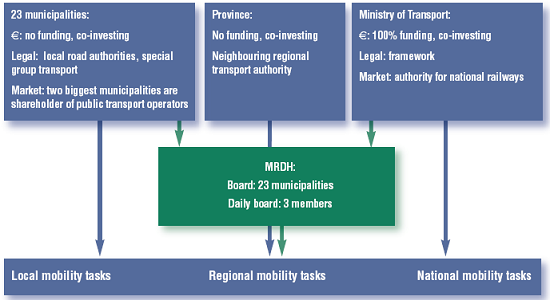 As the figure listed above, the governance and funding structure of MRDH is having some special features, compared to the majority of other Metropolitan Transport Authorities in Europe:
Its funding comes from the state (Ministry of Transport). Municipalities do not fund the MRDH, municipalities do co-fund regional investment in infrastructure works on their local grounds ;
MRDH tasks are public transport and other mobility issues alike; MRDH is a socalled transport authority. A part of its organization (not scheduled in the figure above) carries some responsibilities regarding spatial and economic development ;
MRDH has 23 board members, including its two biggest municipalities Rotterdam and The Hague ;
MRDH tasks do not contain specific local tasks like special focus group transport (pupils, disabled etc.) and local road management. Its 23 municipalities organize their own local mobility tasks ;
The municipalities of Rotterdam and The Hague own the shares of the biggest transport operators. Therefore they have a double interest discussing public transport issues : a planning & policy interest and ownership interest alike.


Tasks and budget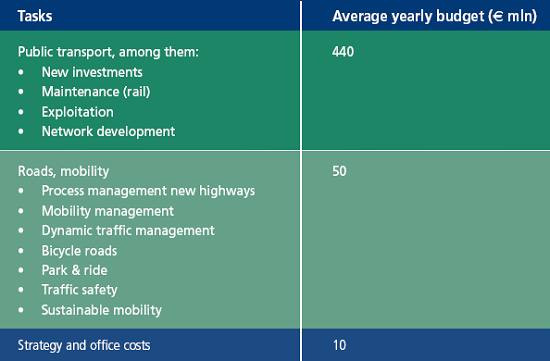 The table above indicates MRDH is used to work from a holistic perspective on mobility. Public transport is by far the most comprehensive task, yet making combinations with other mobility aspects is the main trigger for a synergetic approach. Two examples:
Within Rotterdam area, there are over 5000 parking places near suburban train and metro stations (Park & Ride), based on an integrated ticketing system for both parking and the use of public transport. This prevents traffic jams into the centre cities whilst contributing to the increase use of the metro.
The tasks of mobility management is done by a 'satellite organization' called Verkeersonderneming (co-owned by MRDH), its main task is getting employers and employees out the traffic jams on the highways, by finding other mobility solutions for them. That can be anything, while MRDH is covering the wider area of mobility, it is possible to offer any conceivable solution. This satellite organization works as a 'mediator' between government, employers and their employees, transport operators and small entrepreneurs.


Organization and working culture
MRDH has a staff of some 60 heads. The main focus is at strategic issues, policymaking, program and contract management. MRDH is heavily relying on capability and capacity of its stakeholders. Its organization model is 'lean and mean': its transport stakeholders and contractors need to be capable and professional enough to secure the management of all projects and to uphold a high quality of daily services. For example the two largest public transport companies have both 3000 FTE, operating the fares and ticketing, time tables, advising on network expansions, taking care of social safety and security, manning client support centres. Larger municipalities are responsible for managing the projects themselves, leaving to MRDH-staff to their core role as a programme manager, funding partner and policy framework decision body.
For more information contact : p.uijtdewilligen@mrdh.nl