This summer Vilnius again have some exciting news to share with our dear colleagues! We recently have been working a lot on of the main fields when it comes to any service provider, whether than would be public authority or grocery market and that is CUSTOMER INFORMATION. We always work on improving our services according to our customer needs and in order to find out those needs we carefully listen to them therefore every single feedback matters. This time we will briefly share our customer information innovations by giving you three different stories in regards to marking, journey planning and real time arrivals.
Google your trip
Google in cooperation with the Vilnius city municipality and ME "Susisiekimo paslaugos" have expanded intelligent transport system to Google Maps by adding Vilnius public transport schedules and enhanced travel planning choices therefore now Vilnius public transport passengers can use Google Maps service extension "Transit".
Before that customers could plan their journey on our website however, not all foreigners knew this tool is excising. Moreover, in Europe today we have a common practice to plan and check the journeys on google maps. We really hope this Google service extension will be very beneficial for our guests and they will choose public transport for their journeys much more often.
We also hope that it will have an added value for our citizens also since they will have the opportunity not only plan the journey via Google maps but also see how long the same journey would take them if they would go by private car or by foot or public transport. We hope people will see that some journeys take even less when using Public transport, plus PT ticket costs less than fuel, insurance and exploitation of the car, plus you save time by not having to park your car in the center where parking spots usually are pretty busy. We are happy that Vilnius joins such cities as New York, London, Tokyo and Sydney where millions of people are already using intelligent travel planning tools.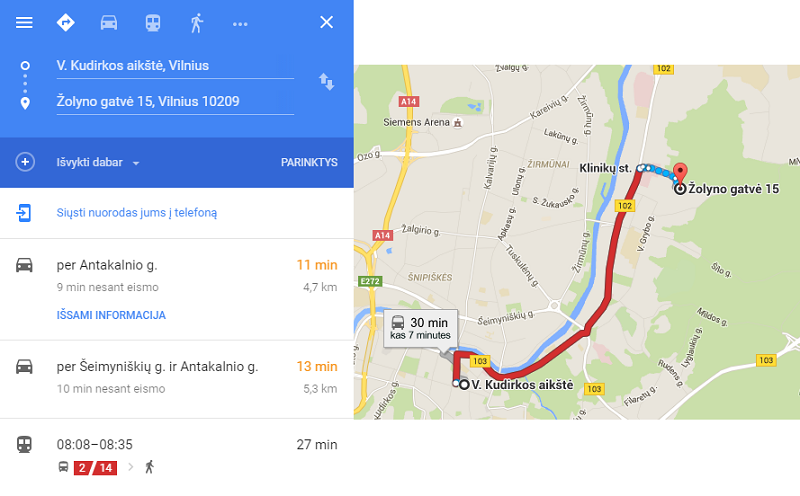 New marking at the main Station
Since May using public transport in Vilnius main station area is much easier. All bus stops signs at the main station was marked with prominent channel letters – cubes, which are visible from a distance. It is expected that this innovation initiated and established by ME "Susisiekimo paslaugos" will help both, the residents of Vilnius and guests of the capital, to find the required bus stop much easier as today we have even 11 bus stops in the main station from where large number of different busses and trolleybusses departs every hour.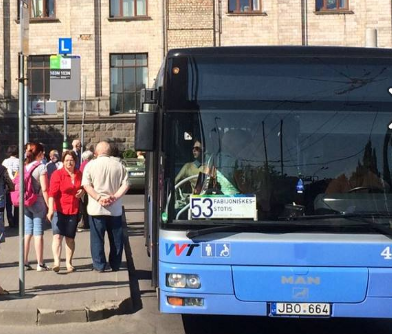 Passengers had difficulties finding the certain bus stop for the certain bus because station area had 11 bus stops under the same name "Station" therefore, we hope that this innovation will considerably help the residents of Vilnius and guests of the city to find the right route.
Stops indicating cubes are blue with large white letters, which are arranged in a certain order – in alphabetical order, starting from the first bus station to the railway station on the right.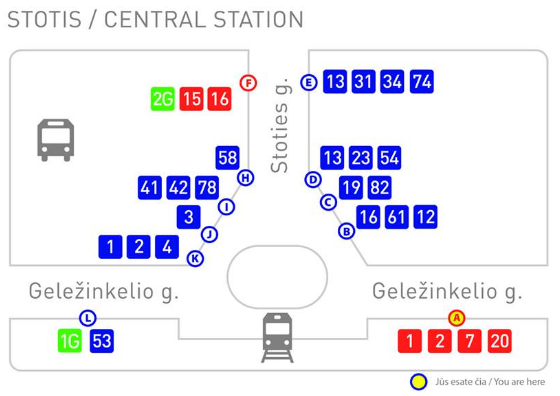 Along with the updated station infrastructure marking, public transport information station area scheme with the same letters indicating the stations will soon be updated. Information of the scheme will be provided on the public transport stops cylinders with schedules.
Real time arrivals on your phone
In Vilnius we have 40 LED-escreens where passengers can see real time bus and trolleybus arrivals. However, the number of public transport stops is much higher than that- in Vilnius we have more than 1200 public transport stops.

It is very important for passenger to know when exctly which bus is arriving, they then can plan their trips more prescisly, moreover waiting time does not seem that crucial when you know exactly when the bus is due. Therefore we came up with 6 a great solution for providing real time arrivals information at every single stop by not having any infrastructure costs- QR code.
We have provided QR codes on every publictransport stop next to timetables, by simply scanning QR code passengers will get real time arrival information for that specific Public transport stop on their phone.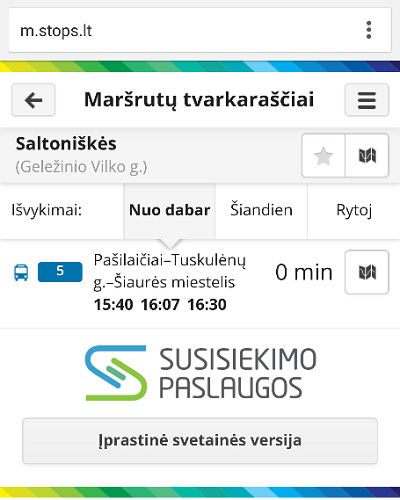 Now we can say that 100% of public transport stops is equipped with real time
passenger information.

Contact:
Gintare Krusinskaite