The public transport Company in Brussels STIB is developping a car sharing scheme which is seen as a win-win situation for public transport and for the city.
STIB, the public regional company of public transport covers 29 municipalities, serves 1,160 000 inhabitants an operates 3 metro lines, 15 tram lines, 51 bus lines and 20 night bus lines. STIB is aware of the importance of developping intermodality so as to better meet the flexiblemobility needs of a urban area. Already special services to people with disabilities (since 1978) and facilities for the bicycle users have been provided, and projects of collaboration with taxis and of implementing park and ride facilities are underway.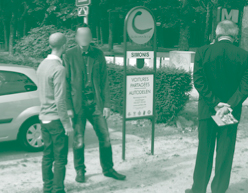 However a more innovative scheme has been tested since 2003: the partnership between car-sharing company Cambio, STIB and Brussels-Capitale Region, a win-win situation according to the actors involved.
The car sharing scheme started in 2000 as a joint venture Cambio-Taxistop to create the company Optimobil in Belgium.
In the autumn of 2001, Brussels-Capitale Region asked for the
participation of STIB in the Brussels scheme. Thus the Cambio Brussels limited Company made of 49.5% STIB-MIVB -the public transport company- and 50.5% Optimobil Belgium Cambio.
Launched in May 2003 with 4 stations and 15 cars, 5 years later it covers 30 stations, 100 cars and some 3000 customers. The collaboration between the transport authority, the public transport operator and the car sharing company is seen as a win-win situation that benefits the community at large.
The ease of use of car-sharing available day and night, 7 days a week at specially designed stations with a pay-as-you-go tariff structure and an easy booking including internet, makes it a handy alternative to private car.
Every shared car is said to replace 4 to 8 private cars thus reducing traffic jams and allowing to spare the related land spaces for parking to be used for other activities. The traffic reduction also has a positive impact for the citizens on the level of pollution.
The involvement of the transport authority Brussels-Capitale Region was instrumental to ensure financial support and the
promotion of the scheme at regional level while the involvemement of the local authorities allowed free parking spaces on their territory and the local promotion of the service.
The operator STIB gains a good image of a public transport company which integrates a wide range of services to meet the
flexible needs of its customers. Cambio stations are integrated in STIB's network and their display is shown on STIB's map. The marketing and communication campaign in collaboration with the Transport Authority enhance the promotion of the natural complementarity between public transport and car-sharing.
For more :
Didier Dumont

Head of Department "Bouquet de Transports" (Intermodality), STIB