Updated

26 April 2007
News
Cadiz Bay and Jerez de la Frontera are situated in Andalucia south west Spain. The population figure reaches 1million inhabitants in season. Consorcio Metropolitano de Transportes de Cadiz Bay CMTBC is responsible for suburban trains, suburban and urban buses and more recently for maritime services.
During the year 2006, Maritime Service was the major project for Bahía de Cádiz consortium. The project included three maritime terminals and two catamaran ferrys. Two round trip lines were opened on 6 June 2006: Cádiz-Rota-Cádiz and Cádiz-El Puerto de Santa María-Cádiz.
The foreseen demand was established around 480,000 trips in full operation. The target for the first year was to reach at least 70 % of this figure. Results are promising for after five month of operation 70% of the target for the first year as already been accomplished.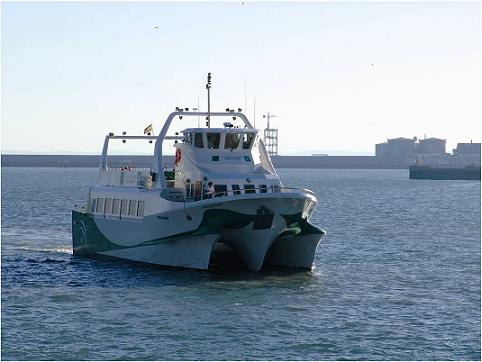 The line Càdiz-El Puerto de Santa Maria-Càdiz attracts 83% of the passengers and the line Càdiz-Rota-Càdiz merely 17%. A third ferry has been added since 1rst February 2007, which allows higher frequency of the service.
Indicators of punctuality and provision of service rank above 95% and CMTBC is considering adding new lines.