Updated

19 December 2006
News
This 14.6-kilometre line uses a former rail corridor closed during late 80's and protected from other uses. From the main railway station, it serves the partly urbanised western area of greater Lyon region. The investment costs amounted to € 172 million, including a brand new track.
The interest of LEA lies in its commercial speed of 38 km/h (maximum speed : 70 km/h), allowed by a reduced number of stations (10) and the total separation of the tracks from urban streets except in the centre of Lyon.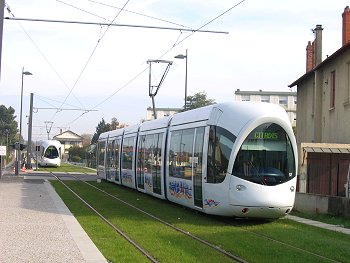 One other specificity is the expected sharing of the infrastructure with the future LESLYS line, using the same tracks and serving Lyon Airport, 8.4 kilometres further.
This will increase the complexity as the transport authorities will be different for the two lines (Sytral for LEA and Rhône County Council for LESLYS), as the operators (TCL-Keolis and Veolia Transport). Moreover, direct services to the airport will be able to bypass LEA services on specially built bypasses at certain stations. The opening of LESLYS is expected during the autumn of 2009.