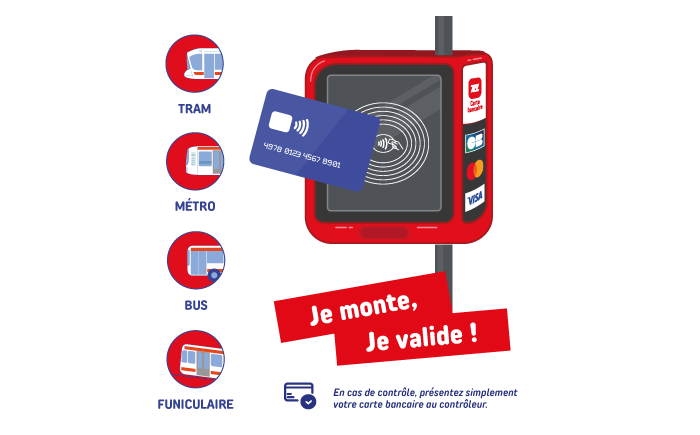 The new service introduced on 30 May 2022 allows the use of contactless bank card or any connected object as a ticket for travel on the entire TCL network (bus, metro, tram, funicular, P+R).
Present your contactless bank card or your connected object (phone or watch with the NFC function activated) on the validator. You will be debited the next day.
The cost of one journey is €1.90 offering unlimited travel on the TCL network for one hour, with connections possible. The fare adapts to the number of journeys made. For more than 3 journeys per day and per person, a cap of €6 is applied.
When you make a connection, present your bank card (or connected object) on the validator. If you have previously validated within the hour, you will not be charged again.
Multi-validation will be launched in the Summer 2022: it will be possible to validate for up to 5 people.
Entrance to the park-and-ride facilities is free. You can leave free of charge by presenting your bank card (or connected object) validated during the day at the exit terminals. Otherwise, it will cost you €10, the price of an exit ticket.
Source: https://www.tcl.fr/tcl-carte-bancaire