Vienna : Responsible authorities

Verkehrsverbund Ost-Region
Europaplatz 3/3
A-1150 Vienna
Austria
Are you a registered member of EMTA? Log-in to access contact details.

Verkehrsverbund Ost-Region (VOR)
Europaplatz 3/3, 1150 Vienna – Österreich
Tel : +43 1 955 55-0 – Fax : +43 1 955 55-1122
office@vor.at
Organisation
The Public Transport Authority Eastern Region (Verkehrsverbund Ost-Region VOR) is the largest transport authority in Austria. With more than 40 rail and bus transport partners, it has been providing a wide range of mobility services for passengers in Vienna, Lower Austria and Burgenland (in short: Eastern Region) since 1984. The "mobility agency" VOR is responsible for the cross-border planning, financing, and coordination of all public transport services in that region.
Across an area of 23,563 km², about 900 lines servicing about 11,500 stops in Vienna, Lower Austria and Burgenland operate as part of the VOR network.
The shareholders are the Province of Vienna, Lower Austria and Burgenland (44/44/12%). The Executive body includes representatives of the three local authorities. The supervisory board chairman is elected for one year and the provinces take turns.
The management of VOR is assumed by two CEOs, Thomas Bohrn and Wolfgang Schroll.
Milestones:
1961: The Austrian Federal Railways (OBB) and Wiener Verkehrsbetriebe sign a tariff agreement
1973: The Federal and State governments endorse a policy statement with their signature.
1984: VOR as a company is officially founded, covering the area mainly in and around Vienna. The rest of Lower Austria and Burgenland is managed by VVNB until 2002, dividing the Austria's Eastern region in two tariff systems (see graphic).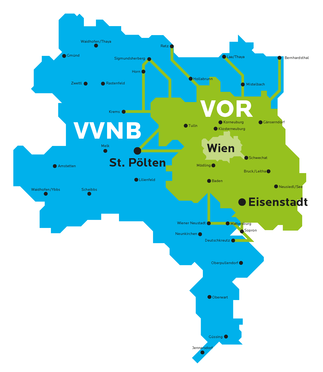 2002: VOR takes over the management tasks of the Public Transport Authority of Lower Austria and Burgenland (VVNB), an important step towards the aim of integrating the two tariff systems.
2008: Relaunch with a new logo.
2012: VOR moves to a new office building at the train station Wien Westbahnhof and opens a customer center. Introduction of the Student Passes ("TOP-Jugendticket" allowing young students to use PT in the VOR-region for EUR 60 per year).
2016: The new tariff system is put into force in July, finally combining the two tariff systems of VVNB and VOR. The launch of the new tariff system also comes with a new logo and brand positioning.


Missions
VOR is assigned the task of coordinating, planning and implementing in cooperation with the transport companies and in accordance with the financing agreement.
Billing and clearing centre; billing and issuing student pass
Public service contracts with regional buses
Quality management and complaint management
Research and development; marketing and public relations
marketing and public relations
Planning traffic concepts, tenders, dynamic schedule synchronization
Passenger information


VOR tasks and services
Actingbetween passengers, transport companies, regional authorities and policy makers, VOR is working on improving and developing mobility services in the Eastern Region. The main concerns of VOR include comprehensive and intermodal mobility, with a focus on modern passenger information systems, but also efficient and environmentally friendly public transport planning and management.
VOR coordinates and commissions local and regional public transport in the Eastern Region. In the rail sector, VOR is responsible for financing services that exceed the basic offer as defined by the Austrian federal government. This amounts to approximately 10% of train travel kilometers in Vienna, Lower Austria and Burgenland. The association's revenues (e.g. ticket revenues garnered by transport companies) are collected by VOR and distributed among the members of the VOR association.