Rotterdam/The Hague : Identification of metropolitan area
Presentation
The Metropolitan region is a convergence of the two strong agglomerations around the cities of Rotterdam and The Hague. They both have an own unique profile and a distinctive identity. They complement each other well and their strengths act in synergy. Every day around half a million commuters travel from home to work or to training or study. The region really does function as a single, daily urban system. In other words the region and its 23 local authorities have been working closely together in numerous domains for a long time already: the Metropolitan region is alive.
23 municipalities in the Metropolitan region Rotterdam The Hague:
Albrandswaard, Barendrecht, Brielle, Capelle aan den IJssel, Delft, Den Haag ('s Gravenhage), Hellevoetsluis, Krimpen aan den IJssel, Lansingerland, Leidschendam, Voorburg, Maassluis, Midden-Delfland, Nisseward, Pijnacker-Nootdorp, Ridderkerk,,, Rijswijk, Rotterdam, Schiedam, Vlaardingen, Wassenaar, Westland, Westvoorne, Zoetermeer
.
Map of the Metropolitan area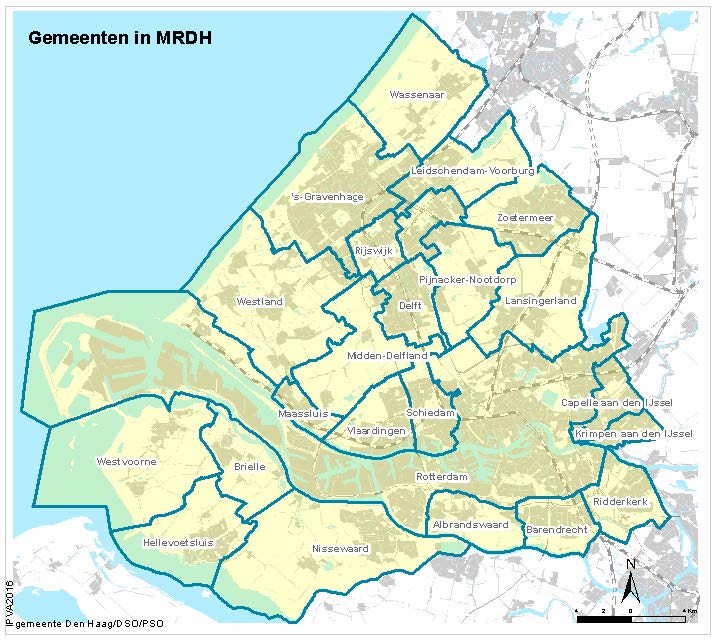 Key figures of the Metropolitan Region Rotterdam The Hague
| | |
| --- | --- |
| surface area 2020 (km2) | 1256.40 |
| inhabitants 2020 | 2,390,416 |
| website | https://www.mrdh.nl/power-partnership |
*Gross Domestic Product per capita is € 34.500
Foreigners in the region
| | |
| --- | --- |
| expats | 80,000 |
| foreign university students | 12,000 |
| international institutions | MRDH |