Helsinki : Public transport networks
Public Transport System:
Helsinki metropolitan area has an integrated multi-modal public transport system with a good level of service. The network consists of extensive bus services throughout the region, three railway corridors and a metro branching to two lines.
The central area of Helsinki City is covered by a tram network, and one inhabited island is served by a ferry. About 1 million trips are made on public transport on a weekday.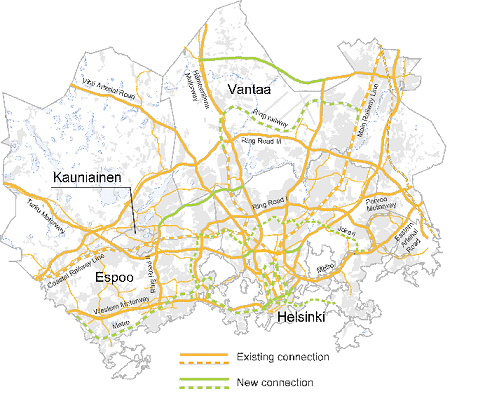 | | | | | |
| --- | --- | --- | --- | --- |
|   | Buses | Trams | Metro | Commuter trains |
| Nb of lines | 503 | 13 | 2 | 14 |
| Operators | 11 | Helsinky City Transport | Helsinky City Transport | Finnish State Railways |
| Website |   | wwwhkl.fi | www.hkl.fi | www.vr.fi |
| | | | | | | |
| --- | --- | --- | --- | --- | --- | --- |
|   | Bus | Tram | Metro | Heavy Rail | Suomenlinna ferry | Total* |
| Supply |   |   |   |   |   |   |
| Nb of vehicules | 1,424 | 94 | 24 | 70 | 4 | 1,616 |
| Service/weekday | 21,284 | 2,404 | 697 | 797 | 72 | 25,254 |
|   |   |   |   |   |   |   |
| Demand |   |   |   |   |   |   |
| Nb of passengers M/a | 181.3 | 56.6 | 64.1 | 63.1 | 2.2 | 367.3 |
| Passengers-km (million) | 1,308.3 | 124.5 | 403.7 | 767.2 | 5.8 | 2,609.5 |
* The figures are for 2016