Updated

27 March 2019
News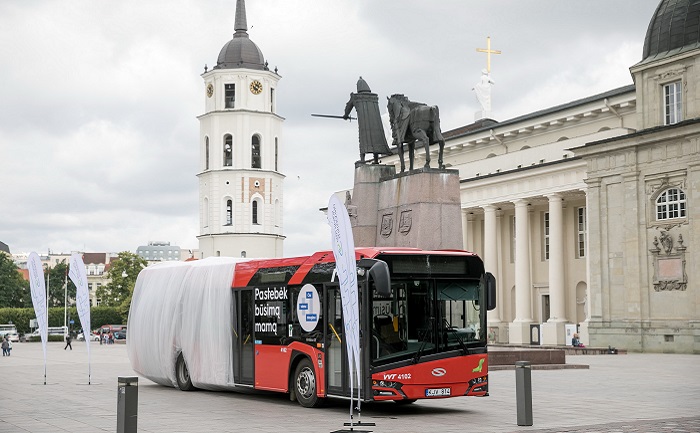 In 2017, a record-breaking update of public transport was initiated in the capital of Lithuania. Currently there are almost 300 new public transport vehicles operating in Vilnius: at least 250 new buses and 41 new trolleybuses. These numbers show that 6 out of 10 buses in the streets of Vilnius are completely new: there is probably no other capital in Europe that can boast such a scale of public transport update.
After this record-large update of the bus and trolleybus depot in the capital of Lithuania, passenger satisfaction in public transport has also been growing. The latest survey of passenger satisfaction in public transport showed that they gave Vilnius buses and trolleybuses the rating of 8 out of 10. This is the highest rating of satisfaction in public transport in the entire history of the conducted surveys.
This unprecedented renewal of public transport also helps to ensure a superlative quality of travel, which encourages the city residents to choose this means of transport more and more often. Comparing passenger flows in the autumn of 2017 with the flows in the autumn of 2018, the total number of public transport trips increased by approx. 6 percent. As the number of new public transport vehicles has been rising in Vilnius, the numbers of public transport passengers have continued to grow as well.
New public transport vehicles provide passengers a possibility to charge their smart devices during the trip, by using the designated USB ports. Air conditioning is available both in the passenger area and by the driver's seat. Moreover, technological solutions that facilitate information provision to passengers have been implemented in the buses: LCD screens and LED displays/route indexes.

Furthermore, video cameras are installed both in the interior and exterior of buses, helping to ensure even greater safety of passengers and making it easier to find items that passengers claim to have left in the transport.
The next step is public transport which is not just new and comfortable but also progressive: at the moment, the first electric buses are being purchased. Before 2020, the capital's bus depot will receive another 135 new public transport vehicles: 5 of them are electricity-powered, 70 are hybrid (20 tri-axle units and 50 twin-axle units), 50 tri-axle buses powered by compressed natural gas, and 10 low capacity buses.
In 2020, after updating the entire public transport depot of Vilnius, it will no longer have buses older than 7 years. After this ambitious stage of public transport renewal, Vilnius will become a European capital with possibly the most up-to-date bus depot in the continent.
This public transport update, which was the largest in the history of Vilnius, was marked by the entire city. For a whole year, various events were organised that received special attention from both Vilnius residents and city guests.
One of the major events was The Labyrinth, which consisted of bright red new buses and was placed at the heart of the city, in the Cathedral Square. This labyrinth of new buses presented various surprises and new experiences for everyone. Everyone was invited to join a tour on the history of Vilnius buses, attend a photo exhibition, take a look at the bus labyrinth from a bird's-eye view (100 metres above ground), and enjoy musical performances.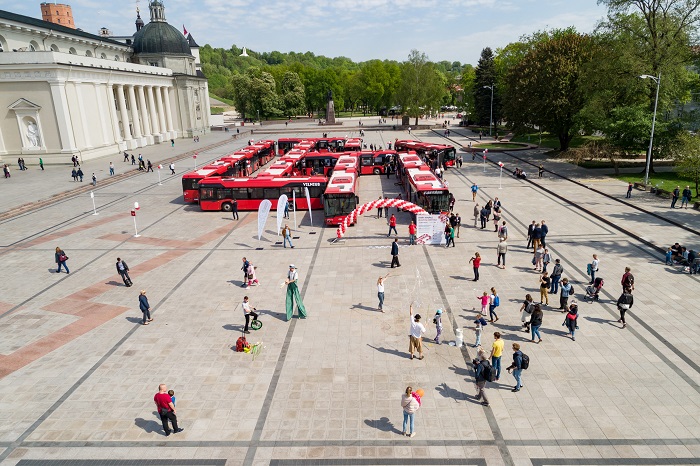 Bus exhibition spaces also attracted a lot of attention: everyone could get acquainted with the comforts awaiting in the new buses, immerse themselves in the leisure space, or visit the photo session area: people had the opportunity to take a photo of themselves at the driver's seat or at the finish line of the labyrinth.
Another event that was very popular with both the media and the public, Baby on Board, aimed to not only introduce the newest public transport of Vilnius but also educate its passengers. This is a social campaign which encourages public transport passengers to ensure a safer trip for pregnant women. The future moms are awarded special badges, while other passengers are encouraged to notice them and give them a seat.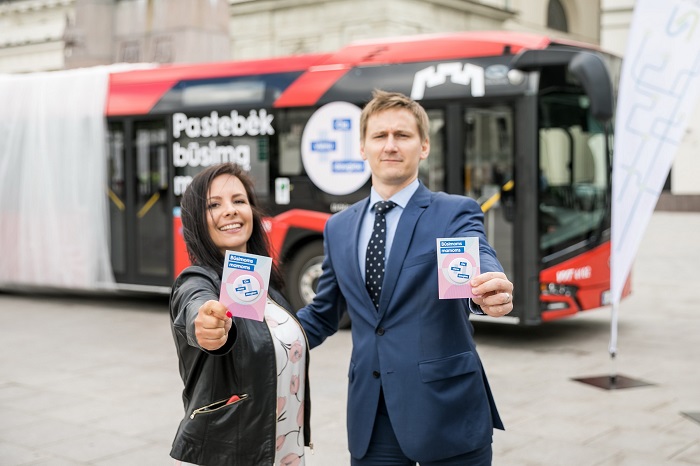 This campaign was launched along with an interesting installation in the downtown of Vilnius: a new city bus enveloped in bubble wrap as a metaphor of fragility. Events included live TV broadcasts, a photoshoot of pregnant women, and handouts of free badges.The Baby on Board campaign demonstrated that this is a great way to develop the culture of friendly conduct and interaction in Vilnius buses and trolleybuses.
Before the year's biggest holiday, Christmas, city residents and visitors received a pleasant surprise: Street Music Day on Wheels. New buses and trolleybuses served as venues for live music performances on public transport. This was the city's way of congratulating everyone with the upcoming most beautiful holiday of the year. People who found themselves in the unexpected concerts were surprised and responded with a smile, some of them even sang back, clapped and danced.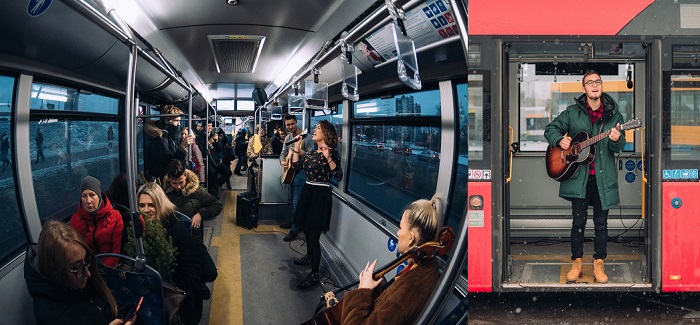 Another initiative that brought new city buses into the spotlight and sought to make public transport even more attractive involved the opportunity to visit the key art galleries and museums of the capital of Vilnius. This was how the special route SU-MENĖK (GET ART-IFIED) was created. The Lithuanian word SU-MENĖTI (to art-ify) describes a certain feeling and impact resulting from art. Vilnius residents and city guests were invited to visit various art-related locations in the entire capital and experience them.
Following the SU-MENĖK route, the public could visit 17 of the most essential modern art galleries and museums of Vilnius by riding new buses for free during all weekends of February.

The invitation was responded by thousands of city dwellers and guests: the weekend visitor numbers increased by 3-8 times while a special free route around galleries was used by over 3,000 passengers.
Vilnius is a modern and rapidly growing city which is open to innovation and considerate of all residents and visitors. Likewise, the Lithuanian capital's public transport enables everyone to travel safely and comfortably around the city and motivates passengers themselves to create a friendly atmosphere where understanding and courtesy are matter-of-course.