Updated

16 January 2008
News
As of 1 December 2007 electronic ticketing (e-ticketing) is in operation in Vilnius. The implementation comes as the result of a European Regional Development Fund (ERDF) project which was initiated by Vilnius City Municipality.
The project was initiated in 2004, when the three biggest Lithuanian cities – Vilnius (554.409 inhabitants), Kaunas (358.111 inhabitants) and Klaipeda (185.936 inhabitants)[[the capitale city of Vilnius is south-est of Lithunia opposite from the City of Klaipeda wich is situated north-west on the Baltic Sea and 312 km apart from Vilnius. The city of Kaunas sits in between, 100 km from Vilnius.]]- decided to use European financial support to introduce one electronic ticket for all three cities with the possibility of attracting more Lithuanian cities to join the same system. The main aim of this project is to create and introduce a unified e-ticketing and passenger information system, covering the networks which are operated with buses and trolleybuses except for Klaipeda where only buses are operated.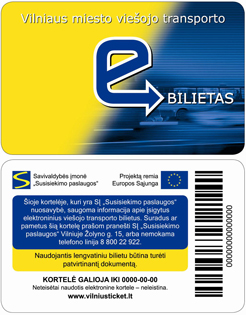 Currently, only monthly tickets are available in electronic form. Plans for the future are to introduce single tickets, as well as hourly and daily tickets and to develop other applications for the e-ticket card.
In Vilnius the institution responsible for the implementation of the project is Municipal Enterprise "Susisiekimo Paslaugos" (MESP). The total budget is €5,6m of which €4,05m from EU financial funds. Vilnius received about €2m, Kaunas about €1,5m and Klaipeda about €0,6m.