Updated

27 January 2015
News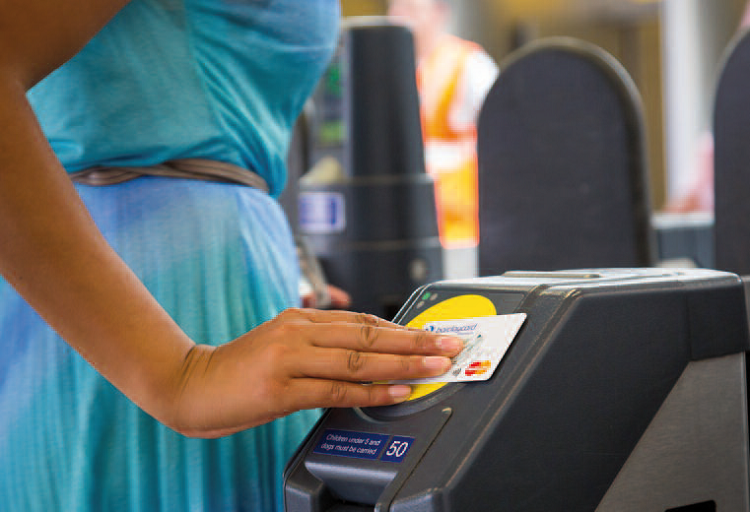 More than 12 million public transport journeys have now been made using contactless payment cards and devices since Transport for London (TfL) launched the new more convenient way to pay on 16 September 2014. Contactless payments, part of TfL's work to modernise and improve the service offered to customers, can be made for travel on the Tube, London Buses, tram, Docklands Light Railway (DLR), London Overground and most National Rail services in London.
Journeys made using contactless payments are growing by 10 per cent every week. They already now make up nearly eight per cent of all pay as you go journeys on the network(pay as you go journeys make up 40 per cent of all fare paying journeys).
Using contactless payments for travel is easy. Customers with a UK issued contactless payment card (debit, credit charge or pre-paid cards) and other methods of contactless payment that meet financial industry standards, including mobile phones, simply have to touch their card or device on the reader. There is no need to sign up for an online account with TfL, but there are many benefits if customers choose to, including being able to see 12 months of journey and payment history. Customers who don't have an online account can still access their journey and payment history, but only for the last seven days. Contactless payments work in the same way as Oyster, charging customers an adult-rate pay as you go fare when they touch in and out on readers at the start and end of every journey. Other methods of contactless payment that meet financial industry standards, including mobile phones, may also be accepted.
Customers using contactless payments for their travel can benefit from having their fares capped – this automatically calculates the best fare for their contactless travel in a day or over a seven-day period from Monday to Sunday. Oyster continues to be available, with contactless payments being another option that lets customers travel without the need to top up Oyster credit.
Steve Newsome, Transport for London:
TfL website