The Mayor of London, Transport for London (TfL) and Santander announced in February a seven-year partnership to grow and develop London's Cycle Hire scheme, embedding the scheme yet further into the hearts and minds of Londoners, visitors to the Capital and across the communities it connects.
The new £43.75m deal is the largest public-sector sponsorship in the world. But it will be far more than that, using Santander's marketing expertise to give users a more accessible, rewarding and enjoyable experience. Santander will pay £6.25m a year in each of the seven years. In addition there will be a £1m per annum 'activation fund' to promote Santander Cycles and reach new customers through rewards, offers and incentives. This compares with to £5m a year under the previous sponsorship, representing a 45 per cent increase in absolute terms and a 25 per cent increase in real terms.
The new name – Santander Cycles – and the new red-and-white livery of the 11,500 bikes, 748 docking stations and 32 service vehicles will become familiar sights to Londoners from April onwards.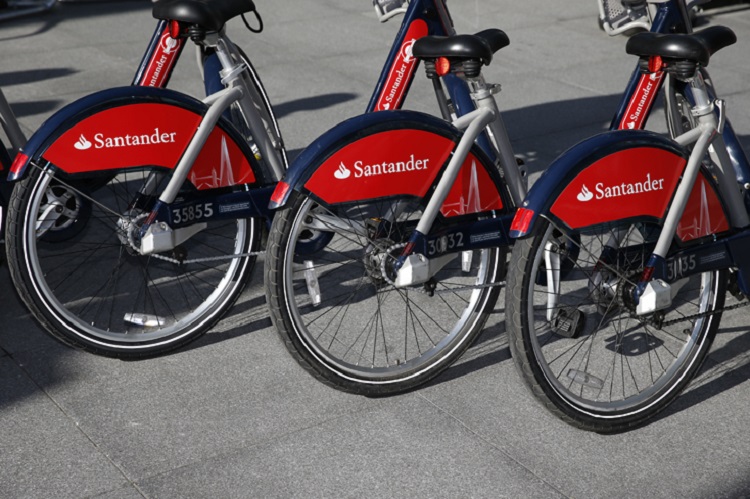 Over the next year Londoners will see more Santander Cycles on the street, extra docking points and a revolutionary new Santander Cycles app, making it easier to access a bike than ever before. TfL and Santander will work together to engage new users via family-focused events in London parks, support throughout 50 of Santander's central London branches and more active promotion of new developments for the scheme.
Santander Cycles will play a crucial role in increasing cycling in London, along other measures set out in the Mayor's Vision for Cycling in London, such as the new Cycle Superhighways, Quietway cycle routes and better junctions.
The scheme, the second-largest in the Western world, has seen almost 40 million journeys since its launch in 2010 and is a popular and affordable way to travel around London for work or leisure. Usage of the scheme rose by a quarter last year and is at a record high, with more than 10 million journeys made in 2014. Customer satisfaction is also at an all-time high, with over 80 per cent of members intending to renew their membership.
For more information: Francisca Delgadillo, Transport for London
www.tfl.gov.uk/santandercycles