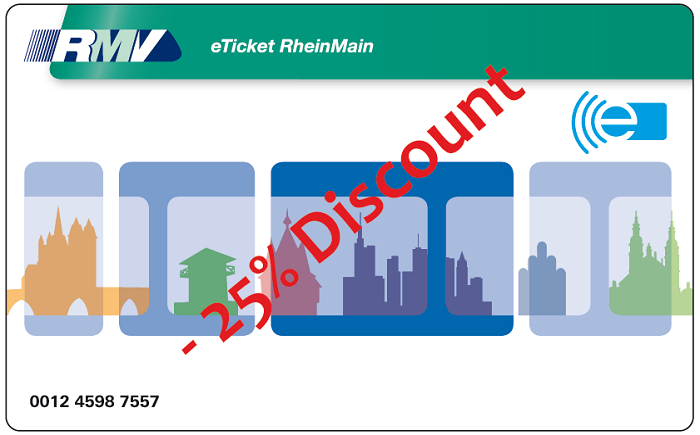 In and around Frankfurt, passengers will be able to save 25% with a new discount from January 2023. The Rhein-Main-Verkehrsverbund (RMV) Supervisory Board approved the plans at its meeting on 8 June. The discount can be purchased for 10 euros per 30 days and is then valid on adult short distance, single, and day tickets. The discount function can be downloaded to the RMV app or to the eTicket. The purchase is possible via the RMV app, at ticket machines and in sales offices.
"The new discount offer is a perfect fit for the increased number of home office users and weekend commuters. The current example of the 9-euro ticket shows how well low and attractive fares are accepted by passengers. Especially in connection with strong cost increases – as is currently the case with energy prices – the implementation of such campaigns with the aim of permanently inexpensive tickets requires the support of the federal and state governments," says Peter Feldmann, Chairman of the RMV Supervisory Board and Lord Mayor of the City of Frankfurt.
"Especially for passengers who commute from the region to Frankfurt several times a month and travel slightly longer distances, the discount offer is worthwhile. However, the long-term cost increases must not be forgotten. The municipalities already finance every fifth euro for regional bus and train transport. To absorb these cost increases, we need support from the federal and state governments" says Ulrich Krebs, RMV Supervisory Board member and district administrator of the Hochtaunuskreis.
"The 9-euro ticket currently shows which passenger potential we can tap into, but also how scarce our current capacities are. A successful mobility transition requires more than low ticket prices. We need the expansion of the infrastructure and an expansion of the timetable offer. This costs a lot of money but is the prerequisite for sustainable mobility and for climate change mitigation – it is money well spent for the future of our region," says RMV Managing Director Prof. Knut Ringat.
Source: RMV press release