Updated

15 March 2017
News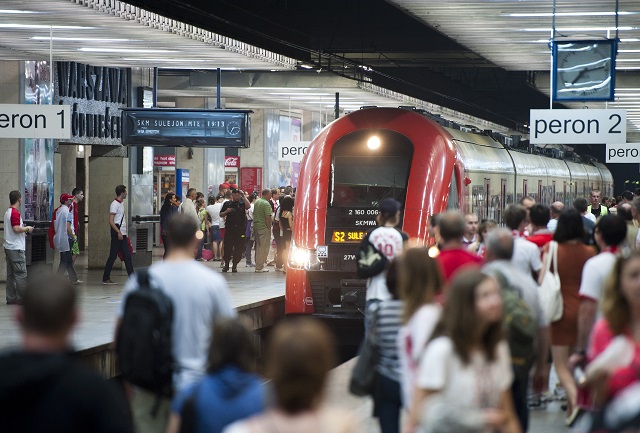 Last year, the number of passengers of trams, buses, and trains of the metro and rapid urban rail (SKM) was record high — over 1.136 billion passengers! It was by more than 5 million more than in 2015.
More and more people use the public transport services in the capital city. In 2015, the estimated number of public transport journeys (calculated on the basis of ticket sales) was 1,131,357,900. And last year, in 2016 — it was as many as 1,136,503,549. It is by more than 5 million more than earlier.
The upward trend has continued since 2008. In 2011 – first time in history – exceeded one billion people.
'I am glad that the upward trend continues. This shows that our actions — exchange of fleet and infrastructure investments — bring expected results and the public transport is the most popular transport means' says Ms Renata Kaznowska, Deputy Mayor of Warsaw.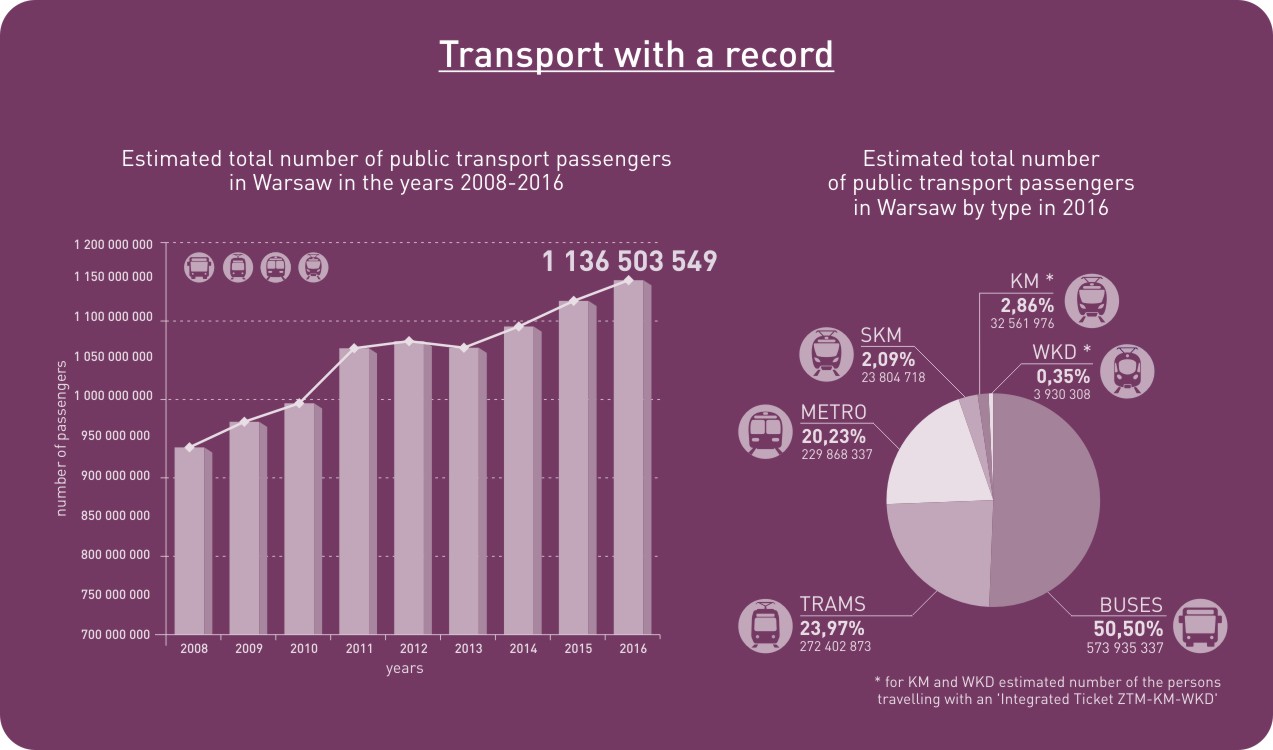 These figures based on the number of sold tickets and data from the passenger counting systems installed in rolling stock and in the M1 and M2 metro lines.
According to the Warsaw Traffic Survey 2015, Warsaw residents make approximately 3.35 million journeys during one day; 56.9% of the non-pedestrian journeys are public transport rides. This proves the effectiveness of the Warsaw' actions aim to encourage inhabitants to use public transport.
These are primarily investments – over the last decade Warsaw completed the M1 metro line and built central section of the M2 line, new tram routes, P+R parkings and interchanges and purchase low floor and eco-friendly rolling stock.
For the next few years Warsaw plan very important investments – the construction of another 6 stations on the M2 metro line, reconstruction and modernization of tram lines and purchase of modern rolling stock. The scale of expenditure makes public transport one of the most important part of the city budget with the record high expenditure at 2.7 billion PLN.
All these activities make public transport can be considered as a signature of Warsaw. It also plays a key role in the transport system of the city and Warsaw' agglomeration.
More information: Halina Rakowska