Updated

15 March 2017
News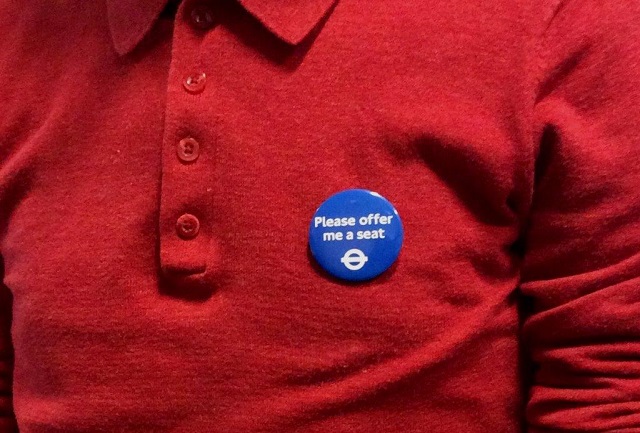 After a six-trial involving over 1,200 people with invisible impairments across its network, TfL's 'Please Offer Me a Seat' badge and accompanying card for those less able to stand on public transport will be introduced on a permanent basis in spring this year.
The trial was in response to passenger feedback and TfL research which found that those with hidden disabilities and conditions, or those undergoing treatments, often find it difficult to get a seat when they need one. During the trial, 72 per cent of journeys were said to be easier as a result of the badge, in 86 per cent of journeys participants reported feeling more confident when asking for a seat and 98 per cent said they would recommend the badge and card to somebody who requires or would benefit from it.
TfL discovered that members of the public were developing their own solutions to the problem, such as a 'cancer on board' badge. Its creator, James McNaught, took part in the TfL trial. He said it was sometimes difficult to get a seat on public transport if the reason you need to sit down isn't obvious to others. When he was undergoing radiotherapy for throat cancer, it meant he couldn't talk to ask for a seat. His morphine medication also made him appear drunk and he said it was a real struggle to get people to understand why he needed to sit down.
The 'Please Offer Me a Seat' initiative is part of TfL's commitment to constantly improve its network for all its customers. Since 2012, TfL's Travel Support card has helped disabled and older customers communicate with staff by allowing them to write down what help they need, as well as things like their emergency contact number. TfL's Baby on Board badge was launched in 2005 to help pregnant women get a seat on public transport and TfL now issues around 310,000 Baby on Board badges a year.
For further information on TfL's accessibility initiatives, please visit www.tfl.gov.uk/accessibility and Action on Equality: TfL's Commitments to 2020′ report
Contact: stevenewsome@tfl.gov.uk