Updated

25 February 2020
News
Over the past two years, the Metropolitan region Rotterdam – Den Haag (MRDH) has been making new agreements with the public transport companies in the MRDH region about clean(er) bus transportation.
In 2030, all buses will be zero emission (ZE) and from 2025 onwards, renewable energy generated locally/regionally will be used where feasible.
Overall, the plans concern four bus concessions, three transport operators and around 550 buses:
In 2018, transport operator EBS introduced around 60 renewable natural gas (RNG) buses for the regional concession Voorne – Putten. In 2028, these buses will all be replaced by ZE buses.
In 2019, EBS introduced 23 ZE buses in the cities Delft and Zoetermeer as part of the Haaglanden regional concession. In the rest of the concession area, 93 RNG buses are already in operation. By 2028, all the buses in the Haaglanden concession will be ZE buses.
In December 2019, transport operator RET introduced 55 new ZE buses for the Rotterdam region concession. In 2021, 50 new ZE buses will be added, and another 50 again in 2025. Before 2030, the last 110 ZE buses will be added into the overall concession.
In the city concession Den Haag, transport operator HTM is already operating RNG buses. These will all be replaced by ZE buses before the 1st January 2025.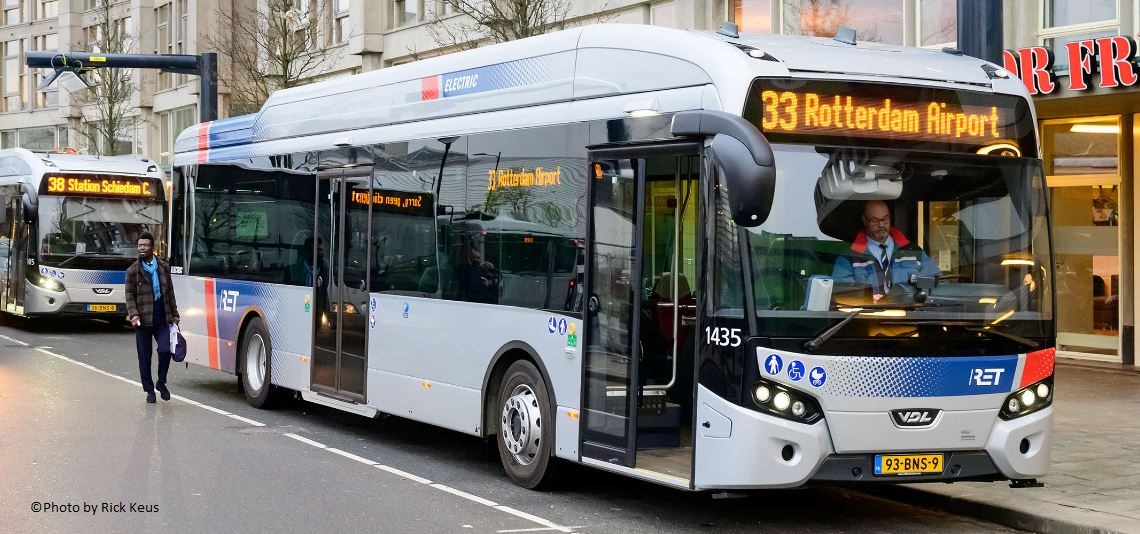 The transport operators and MRDH's ambition for a clean vehicle fleet will help contribute towards reducing CO2 emissions, a more sustainable environment and a more accessible region.