Updated

30 August 2010
News
London's cycling revolution has begun. This summer marks the
start of the two major schemes introduced by the Mayor of
London Boris Johnson and Transport for London (TfL), putting
cycling at the heart of transport in the Capital.
Thousands of bikes will be available for hire in central London from end of July when Barclays Cycle Hire is launched. From 30 July, Londoners and visitors will be able to pick up and drop off bikes from docking stations across the Zone 1 travel area.
Around 6,000 bicycles will be available from approximately 400 docking stations. It will be a really cost effective way to make short trips around town with all journeys under 30 minutes free of usage charges and access fees from £1 (€1.20) for 24 hours to £45 (€54) for an entire year. A short film on how to use the Barclays Cycle Hire can be viewed at: www.youtube.com/user/BarclaysCycle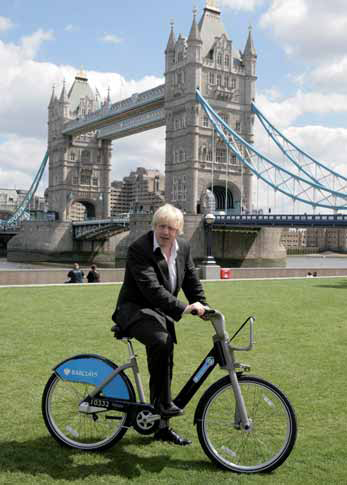 Barclays Cycle Superhighways will benefit London's cyclists with 12 routes that will make it safer and easier to commute by bicycle between outer and inner London on direct and
continuous cycle routes. Each Barclays Cycle Superhighway is
easy to recognise and follow, helping Londoners to commute to
work by bicycle.
Safety is being improved through specific
measures such as the provision of Advance Stop Lines and
continuous lanes through junctions where appropriate. Road surfaces have also been improved to ensure a smoother ride.
You can keep up-to-date with the latest information about Barclays Cycle Hire and Barclays Cycle Superhighways at:
www.twitter.com/BarclaysCycle
Both schemes aim to build on the massive 117 per cent growth
in cycle journeys on London's major roads since TfL was created in 2000 and are expected to generate up to 40,000 extra cycle trips a day in central London.