Updated

15 November 2016
News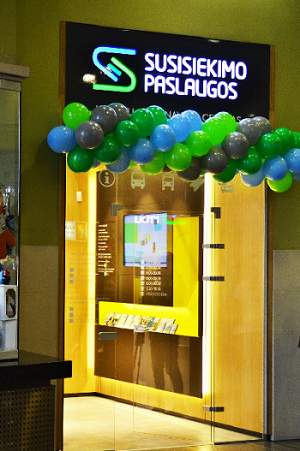 At the end of July the ME 'Susisiekimo paslaugos' customer information centre was opened. Here residents and guests can not only buy public transport tickets or plan their trips, but also get parking permits and pay fees. There thousands of passengers who each day travel to and from Vilnius city, having public transport information centre helps city guests or local citizens to use local public transport services more easily and conveniently. People who arrive to the train station travel around the capital and continue their journeys by using public transport, bicycles, as well as using a car sharing service, walking, private car or a taxi. Therefore, customer service centre in such a multimodal hub was strongly needed, especially since traffic here is particularly intense and passenger flows are really big. New customer service centre harmoniously blends into a single urban transport system.
This particularly makes life easier for visitors from foreign countries or other cities of Lithuania who had never used Vilnius public transport before and has no idea how does the system works. Visitors will be able not only buy tickets for travelling on public transport, but also plan their trip, get all the necessary information, leave comments and suggestions. Moreover, customer information centre is always fully stocked with booklets and brochures about public transport and parking in both, English and Lithuanian, languages.
This is the second customer service centre. The first customer service centre was opened in Gediminas Avenue, next to Vincas Kudirka square in 2012 and is visited every year by about 100 thousand Vilnius residents and guests.
For more information: Gintare Krusinskaite